Graham's Hull 10K
Posted on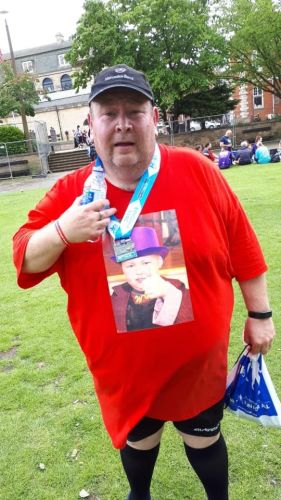 On the 6th January, Alfie's Uncle Graham started the 'Couch to 5K' App.
Graham hadn't done any running since his school days, but wanted to get fit for a medical at work. Graham began his first week, first run with a mix of 60 second runs and 90 minute walks.
In February, Graham rang us to say he was signing up for the Hull 10K!
He wanted to run it in memory of our Alfie Bear and in aid of Alfie Bears Journey Fund - The Brain Tumour Charity to support DIPG Research.
Strangely, the Hull 10K was taking place on the 02nd June 2019, which was also our Alfie's 5th Angelversary, this made the event extra special.
Graham trained incredibly hard for the Hull 10K, running in all weathers and never giving up, even when he had a off day.
Graham's dedication and determination to get out there and train was truly inspiring, and we know Graham was spurred on by the incredible support he received from family and friends and online support.
Everyone enjoyed seeing his regular updates and pictures, and it wasnt long before Graham smashed his fundraising target, which he increased more than once.
Some days were a struggle, but he got back out there and had at least two 8Ks under his belt before the day.
On the morning of the 02nd June, Graham wrote;
"Alfie Bear, today it is 5 years since you earned your Angel Wings, you have inspired many, including me to ensure your legacy is as positive and determined as you were. I know that as I take on my challenge today in your memory that you will be with me every step of the way. In our hearts and memories for ever Alfie Bear."
Later, Graham completed the Hull 10K in 1hr 51 Minutes, just incredible!
We are all extremely proud of him and we know that our Alfie would be too. Big thank you to Kirsty, and her friend Mandy who supported Graham around the whole course.
The support for Graham was overwhelming and we know he is extremely grateful and humbled by the support and the donations which helped him raise an amazing £2,942.95 for DIPG Research.
Our heartfelt thank you to Graham xx #MyBrotherMyHero
If you have been inspired by Graham's story and would like to donate, his fundraising page can be found here; Thank you!
#TeamAlfieBear #GrahamsHull10K #Couchto10K #DIPGAwareness #AlfieBearsJourney #TheBrainTumourCharity