Points Of Light Award 2019
Posted on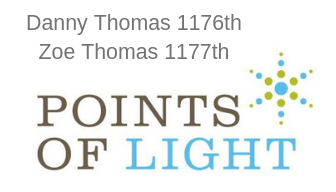 It is a huge surprise and incredible honour to be recognised by the Prime Minister. There are so many amazing volunteers, so we are truely overwhelmed and humbled that the work we do through Alfie Bear's Journey Fund - The Brain Tumour Charity has been honoured with a points of light award.
We hope that this award will help shine a spotlight on DIPG and raise some much needed awareness. We are proud to except this award on behalf of Alfie's older brothers, and everyone that has supported Alfie Bear's Journey over the last 5 years.
We dedicate it to our Alfie Bear and all children and families affected by DIPG.

You can read more about it here: https://www.pointsoflight.gov.uk/alfie-bears-journey-fund/
Thank you to Carly Roberts and the Northampton Chron for their lovely piece in the paper, helping us raise more awareness of #DIPG and thank you to the lovely Kirsty Edmonds who came out to see us x
Article in the Chron can be found here