A Memorable Year with the Mayor 2017/18 *
Posted on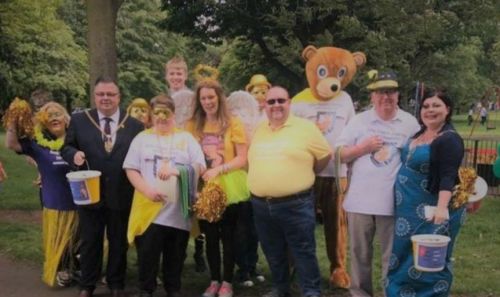 Today we are attending the Annual Meeting of the Council. It feels like only yesterday we were watching Cllr. Gareth Eales become the new Mayor of Northampton.
Myself and Danny and everyone at Alfie Bear's Journey Fund - The Brain Tumour Charity, would like to give our warmest thanks to Cllr. Gareth Eales for supporting our Alfie Bear's Journey over the past year and dedicating so much of his time on some truely memorable events.
Thrpugh the year, they have raised an incredible £24,000 for Alfie Bear's Journey Fund. Wow! A huge thank you to them both.
There have been some wonderful memories for us personally, particularly the Mayor-Fest, leading the Northampton Carnival through the town, and of course the Mayor's Mash Ale.
Cllr. Gareth & Terrie Eales are a wonderful couple, and the care and commitment they showed to us, our Alfie's charity and the town is truely incredible.
We have had many people tell us that they heard about our Alfie through the Mayor, and because of that more people in Northampton are now aware of DIPG. The support has been truely overwhelming and we are so grateful to everyone.
It has been an honour to be supported by the Mayor & Mayoress of Northampton, Cllr. Gareth & Terrie Eales for the past year and we would like to send our best wishes for the next chapter of their lives xx