Please Sign the DIPG Petition 2017/18
Posted on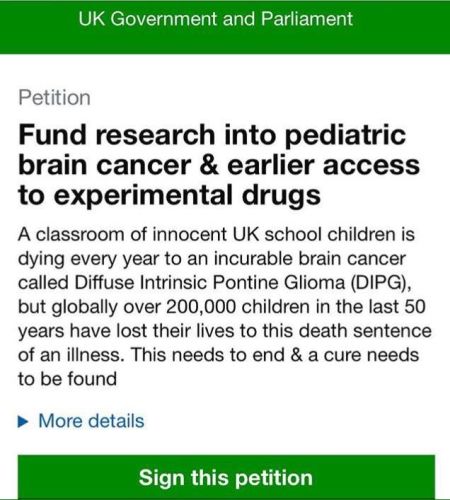 "Globally over 200,000 Children in the last 50 years have lost their lives to this death sentence of an illness..DIPG."
This Petition calling for more funding into DIPG Paediatric Brain Cancer & Earlier Access to Experimental Drugs, needs 100,000 signatures by the 12th March to be considered for debate in Parliament.
The Petition currently has 16,558 signatures, so still some way to go. ...

Please sign and share for our Alfie and for every child affected by this devastating disease
#ChildrenCantFightCancerAlone #TogetherWeCanMakeADifference

You can sign the petition here: https://petition.parliament.uk/petitions/200017