Go Gold - Childhood Cancer Awareness Month
Posted on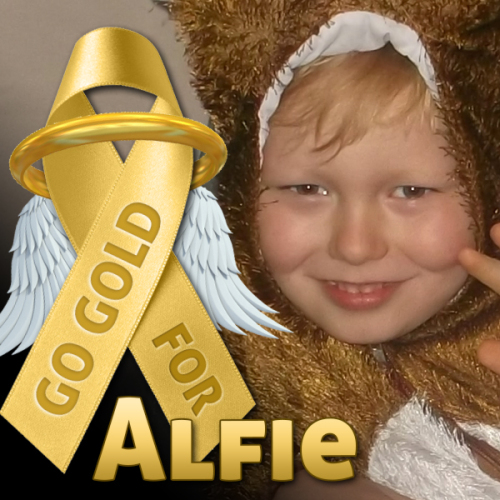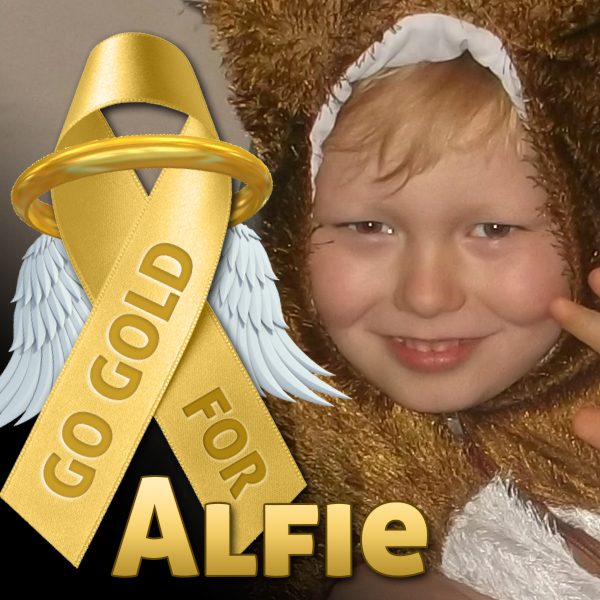 Today marks the start of Childhood Cancer Awareness Month in the UK and around the world.
Social media and buildings will glow gold and hopefully our children's voices will be heard by a wider audience as we continue to share their stories.
We go gold for our precious Alfie Bear and for all the little warriors, survivors and Angels affected by the monster that is Childhood Cancer.
We would also like to say thank you to the Mayor of Northampton, Cllr. Gareth Eales, and the Northampton Councillors and a number of senior officers who will be supporting Childhood Cancer Awareness and wearing gold ribbons this month.
As I look through my homepage today, I am pleased to see so many people have gone gold. I just wanted to write a little about what else I have seen today.
I have seen posts from bereaved parents like us, who are dedicated to keeping their child's memory alive and raising vital awareness by sharing their precious Angel's stories with the world.
I can see posts from parents with newly diagnosed children who are searching for answers and desperately seeking treatments for their children.
I have seen posts from a number of parents, whose children sadly have no options left to them and they are now spending precious family time together.
I can see posts from parents, whose children are now in remission, but who will never forget the horror their child went through and in many cases continues to go through.
I see posts from parents whose children have tragically relapsed, and the heartbreak knowing they have to watch their child relive it all again.
The majority of these posts are accompanied by a photo. Photo's of the real faces of childhood cancer.
They say a photo speaks a thousand words, I can think of many. Heroes, strong, fighters, inspiring, precious and the list really does go on. But what strikes me most about these photo's is the children in them are almost always smiling. It reminds me so much of our Alfie Bear, who despite fighting for his life, always found a reason to smile.
These children are facing the unimaginable, and smiling while they do it. Sadly though, it's not always smiles.
Intense treatments, harsh side affects, changing appearance, mood swings, long hospital stays, regular tests and scans, missing home and school are just some of the things our children have to go through.
I am not seeing these posts because it's September, I see these posts daily! Childhood Cancer is not as rare as people think, Sadly, it can affect any child at anytime.
Around 10 UK children are diagnosed with Cancer every day!
In 2013, our precious Alfie Bear was diagnosed with a brain cancer called Diffuse Intrinsic Pontine Glioma (DIPG) He was just 5 years old. Due to the location of the tumour, it was inoperable and their was no effective treatments available to him.
We were told to take Alfie home and spend precious time with him.
Our Alfie fought DIPG for 11 months. Tragically earning his Angel wings in June 2014. Forever 6 years old. Alfie never gave up and never stopped smiling. He will always be our hero ♥
We was shocked and angry to learn that the survival rate for DIPG was 0% and that the research into DIPG remains extremely underfunded. We felt the same way recently when we learnt CRUK's funding into childhood cancer research has dropped by a third in the last year. Our children are worth so much more than 1.4% and yet it is largely parents, families and local communities who are raising money for research.
Children like Alfie should be enjoying life not fighting for it.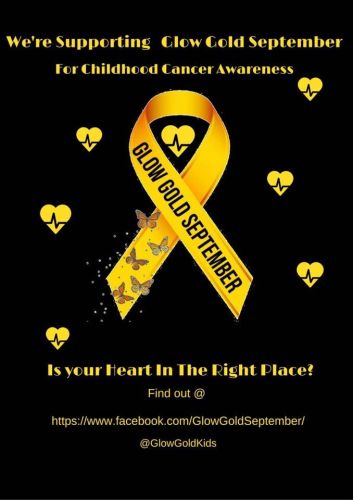 This year, we are supporting the 'Glow Gold September - Childhood Cancer Awareness Campaign'
The Glow Gold September Campaign was started by Parents and Grandparents of Children who have cancer and established to raise awareness of Childhood Cancer during September through gold illumination of iconic buildings throughout the UK, US and the world.
If you know of a building, company or school who would like to glow gold in September and help raise awareness of Childhood Cancer in Northamptonshire please get in touch.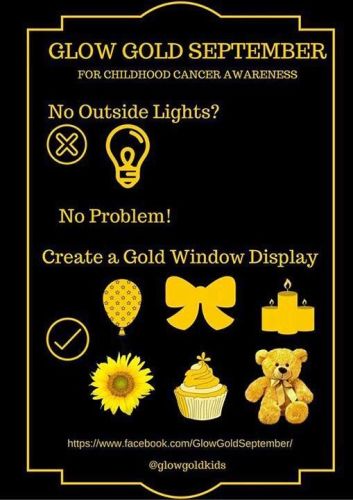 Website: www.glowgoldseptember.com
Facebook: https://www.facebook.com/GlowGoldSeptember/
Twitter: @GlowGoldSeptember
Instagram: @glow_gold_september
Childhood Cancer Awareness - Symptom Cards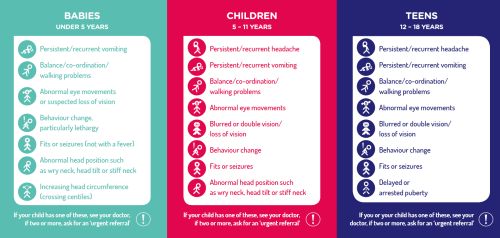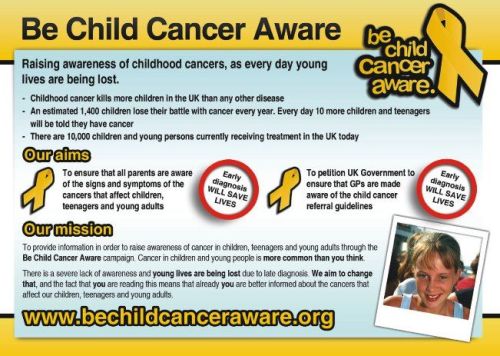 HeadSmart: headsmart.org.uk
Be Child Cancer Aware: www.bechildcanceraware.org
Grace Kelly Ladybird Trust: www.gracekellyladybird.co.uk
Make September Gold for Childhood Cancer Facebook Page - https://www.facebook.com/MakeSeptemberGold/
If you are on social media you can also change your profile picture gold via Twibbon here: twibbon.com/support/glow-gold-september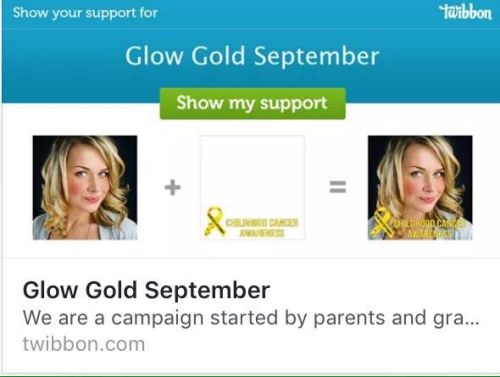 Please consider going gold this September and standing with us in the fight against Childhood Cancer. Take a minute to familiarise yourself with the signs and symptoms and perhaps share them with your family and friends to make others aware too.
Thank you ♥
#ChildhoodCancerAwarenessMonth #DIPGAwareness #GoGold #Glowgoldseptember #teamglowgold #CCAM #NoOneFightsAlone