Our Visit to the Structural Genomics Consortium
Posted on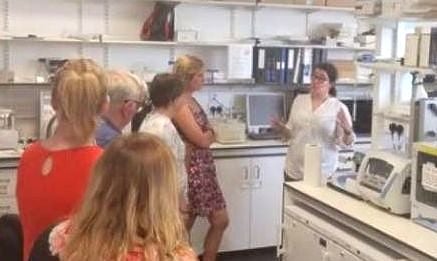 Today we visited the Structural Genomics Consortium (SGC) in Oxford with The Brain Tumour Charity.
It was great to meet Dr Alex Bullock and learn about the DIPG Research that he and the team at the SGC are currently doing.
About the SGC
The Structural Genomics Consortium are an international group of researchers using new technologies to accelerate the discovery of potential treatments for incurable diseases.
The Brain Tumour Charity are just one of few charities who have entered this type of partnership and are driving the next generation of discoveries forward.
There is currently a lack of treatment options for Diffuse Intrinsic Pontine Glioma (DIPG) and prognosis for patients is poor. The SGC have a long standing interest in the gene ACVR1, which is found to be mutated in around 25% of cases of DIPG.
When ACVR1 is mutated, it causes over-activation of a protein known as ALK2 which in turn leads to excessive cell proliferation and hence tumour growth. The SGC's previous research has enabled them to target ALK2 as a theraputic option for another disease.
They now propose to design and synthesise new drugs to block the actions of ALK2, with the ultimate goal of delivering a new clinical option for the treatment of DIPG.