Ewe Must Be Joking Go Gold Challenge 2017
Posted on
The Ewe Must be Joking Team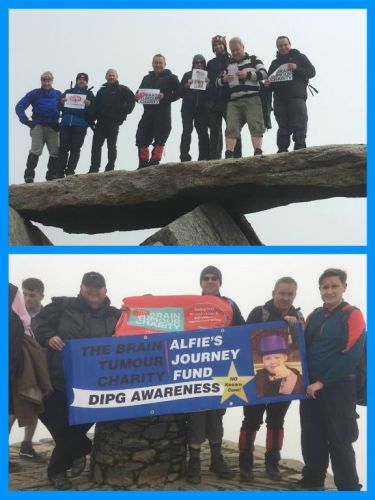 The Ewe Must be Joking Team have supported Alfie Bear's Journey - The Brain Tumour Charity since 2014. In that time, they have given us amazing support and raised an incredible amount of money for Paediatric Brain Tumour Research.
We are extremely grateful for their continued support and for keeping our Alfie in their thoughts and their hearts ♥
Dave Evenett and the team's yearly challenges usually begins with a ramble up Snowdon on day one, finishing with a personal challenge for Dave on day two, set by drill Sargent Kelvin.
This year, Dave and Kelvin and the Ewe Must be Joking Team, Scott, Martin, Jason, James, Jarvis, Tim, Sam and Emma was joined by Alfie's Uncle Graham and 15yr old Cousin, Evan and supported by friend Simon.
To find out more about the Ewe Must Be Joking Team, please visit their new website: http://www.ewemustbejoking.com/about
Day One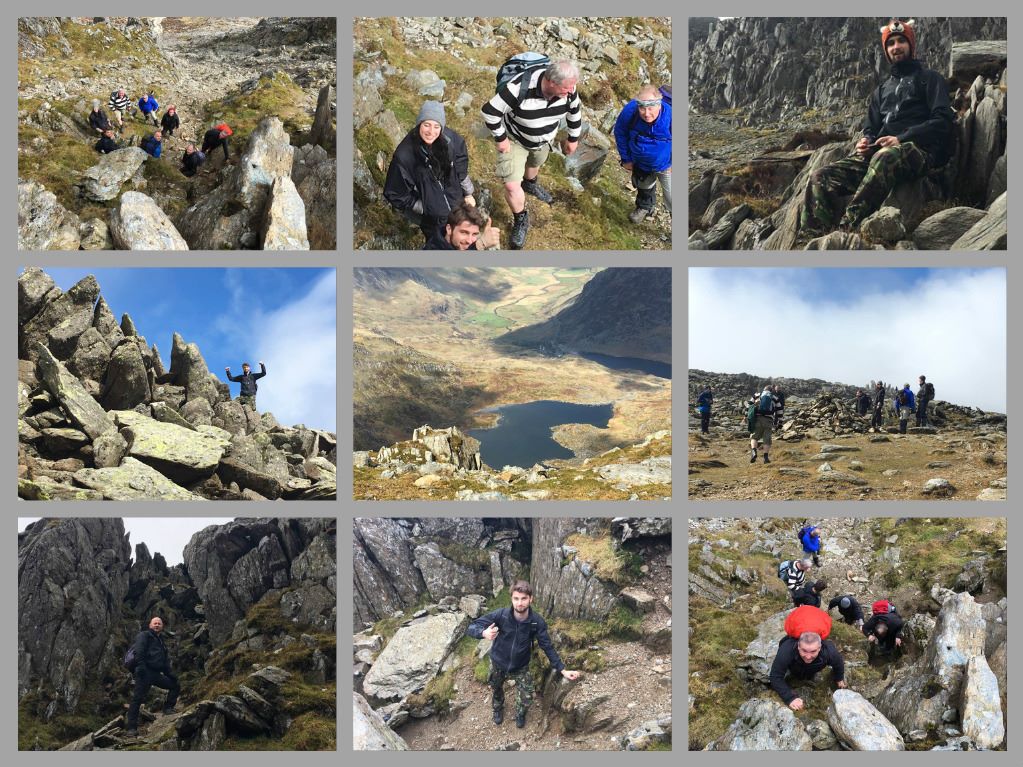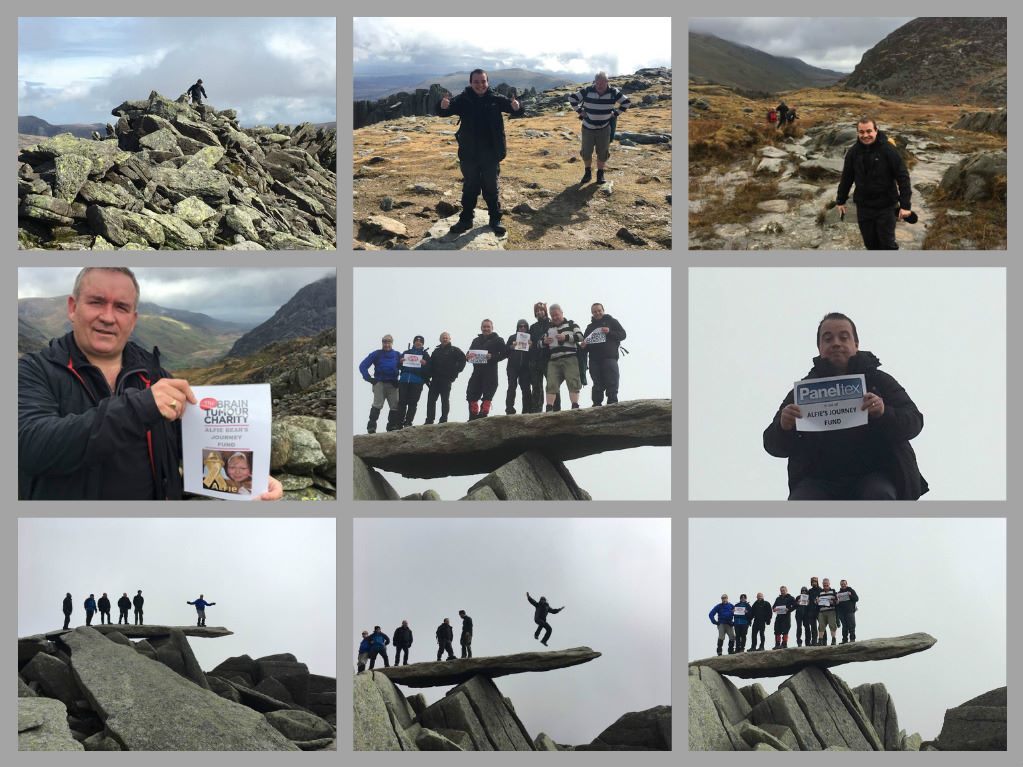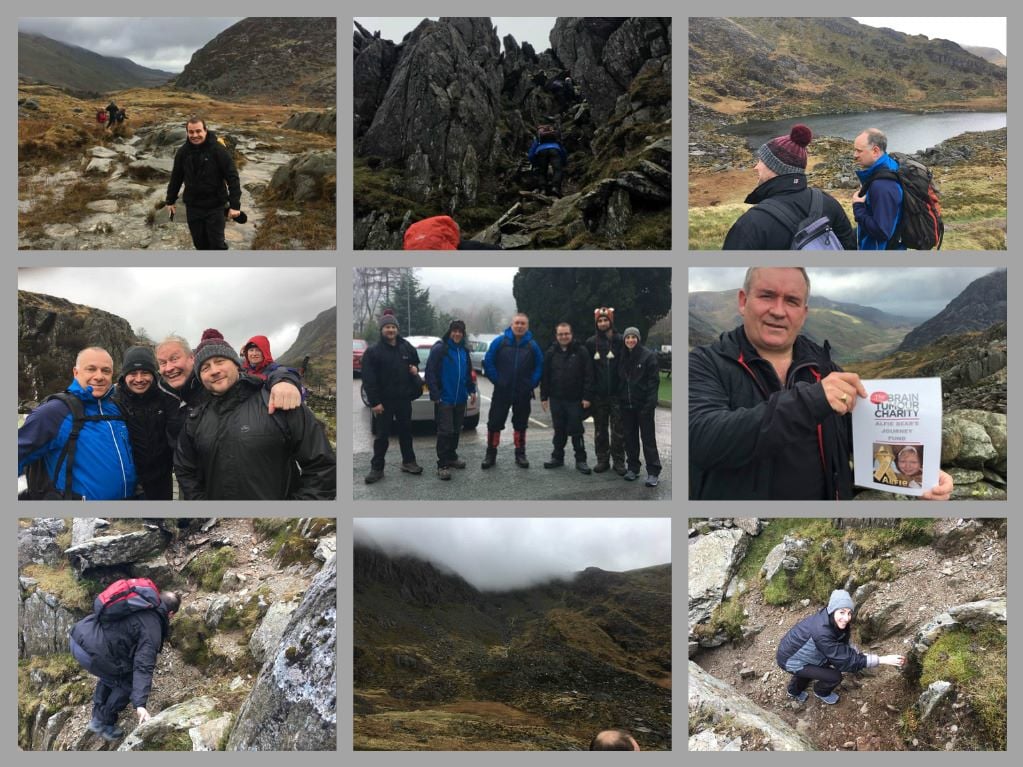 A big well done and our heartfelt thanks to Dave, Kelvin, James, Tim, Sam, Emma, Jarvis, Martin and Jason for completing day one of the Ewe Must be Joking Snowdon Challenge for Alfie Bear's Journey Fund. The team had their annual ramble up Snowdon, climbed four summits and finished off on Elidir Fawr also known as Electric Mountain.
They all did amazing and took some beautiful photo's. It was particularly lovely to see the one of Dave holding a photo of our Alfie on Snowdon.
Dave and Graham set up a joint team page with an initial target of £1,500. Every team member also donated money to Alfie Bear's Journey Fund. Big thank you to them all for their continued support ♥
https://www.justgiving.com/fundraising/Ewemustbejoking2017
Team member, James Oxtoby also set up his own Just Giving page and raised a wonderful £290 for Alfie's Journey Fund - The Brain Tumour Charity.
Some words from James "I was at Alfie bears charity dinner last year and hearing Alfie's story and knowing Graham through the commercial vehicle business, has really touched me and driven me to help raise as much awareness of this awful disease and raise as much money to invest into curing this, so children of the future have a chance of survival.
So I am climbing Snowdon as part of the yearly outing organised by Kelvin Bull and Dave Evenett, Ewe must be joking!! People have asked me what made me want to do this, as a parent sitting and watching Alfie's mother tell the story of the ordeal that Alfie went through and see photos of what it did to a smiling, happy child, would make any parent want to do whatever they can to help."
https://www.justgiving.com/fundraising/James-Oxtoby1
Big thank you to James ♥
Day 2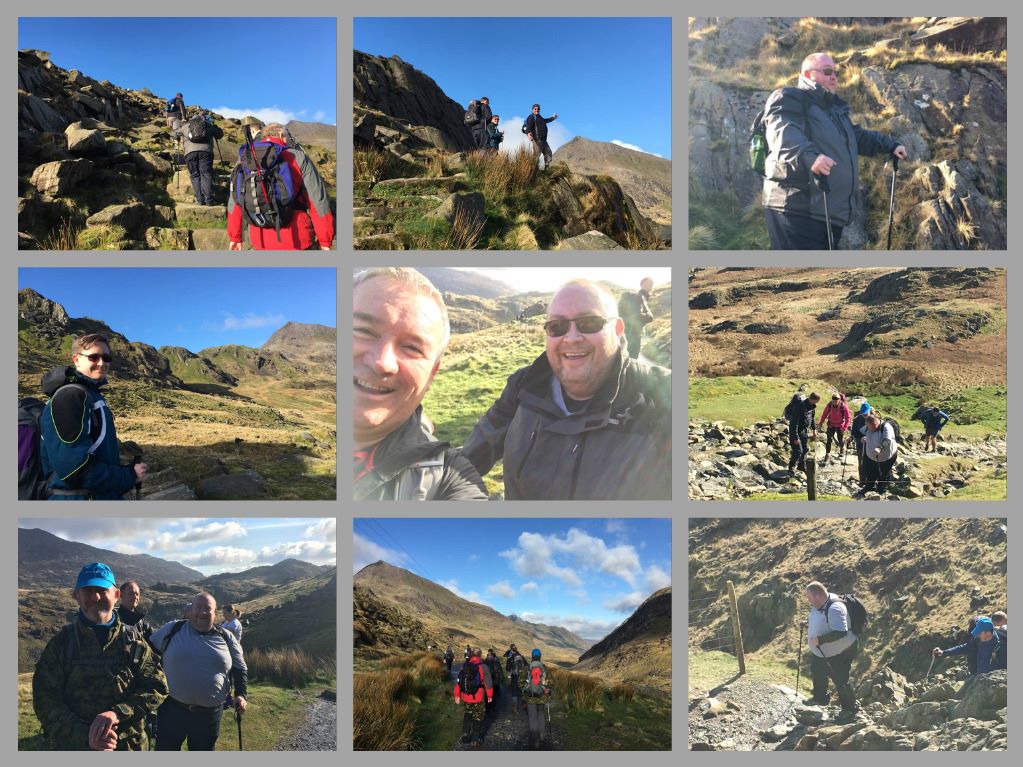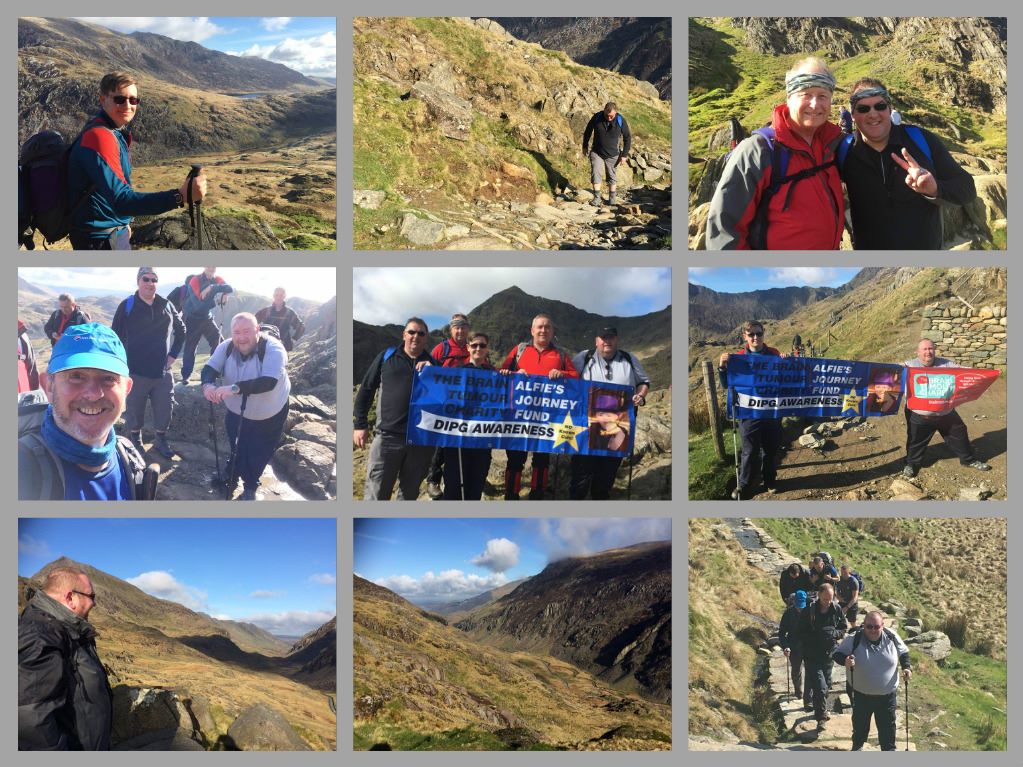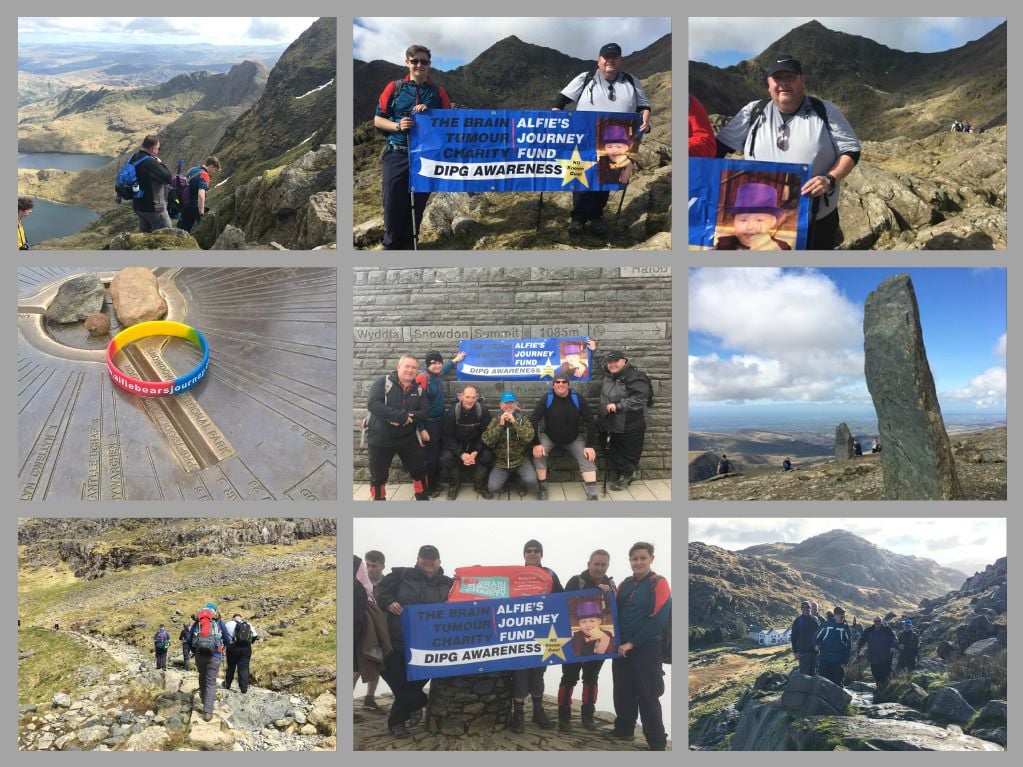 A big well done to Dave, Graham, Scott, Kelvin, Tim and Evan for completing day two for Alfie Bear's Journey Fund. Thank you to Simon for going along to support them on the day.
Dave's challenge this year was to complete climbing all the Welsh 3000's. Dave had 6 summits left to climb and they are some of the most inaccessible peaks in North Wales.
Graham's Challenge was "simply" to get up the mountain via Pyg track and back down via Llanberis Path with eldest son Evan to hold his hand.
The team all trained hard for this challenge, and despite picking up a few injuries along the way, they all completed it!
We are so proud of them all. We are particularly proud of Graham, who at times was not sure he was going to be able to finish it...but he did!
We know he was extremely grateful to everyone for supporting him through it and looking after our Evan.
During the challenge, their progress was shared around social media and many donations were made. Thank you to everyone who donated and helped the team raise an incredible £3,047.50 for Alfie Bear's Journey Fund - The Brain Tumour Charity.
As well as Dave and Graham's joint page, and James page, Scott Russell also set up a page raising a further £340.
A few words from Scott: "Alfie was 6 when he was diagnosed and sadly gained his wings a year later, despite their great loss his family have set up the Alfie's Journey charity with a goal to help fund a successful treatment ,what makes this charity so special to us is the way Fun is put into Fundraising . be it the colourful and 'wild' annual dinner possibly the only one where you are encouraged to fire pea shooters, throw paper planes and release balloons at the other tables
Through my Friends in the commercial vehicle industry I got introduced to Ewe must be joking a group who raise money for the charity by letting Kelvin Bull set a series of mountain climbing and cycling challenges for anyone (mainly Dave Evenett) who fancies with only Haribo sweets and blisters as reward. After giving logistical support last year I have been 'Persuaded' that I should take the plunge so since October I have been in training for the challenge on 1st April. Please sponsor me in this worthy cause!"
https://www.justgiving.com/fundraising/scott-russell7
On Sunday afternnon, we received an excited call from our Nephew Evan to tell us they had reached the top of Snowdon! We couldn't have been prouder and we are sure our Alfie was watching over them all.
The team stopped to take some amazing photo's of which we have shared with you on here. It was overwhelming to see our bears smiling face on top of Snowdon :-)
A few words from Dave: "A fantastic weekend, some enormous efforts by 1 and all, an amazing total thanks to Kelvin, Jarvis, Martin and Jason for the offline donations as well as a couple off quid a bloke gave us at the top.
Wow! what fantastic support. a massive thank you from all of the Ewe must be Joking team. There is still time to add to this amazing total. With James Oxtoby and Scott Russell's separate pages we have exceeded out group target of £3K."
A few words from Alfie's Uncle Graham: "By far and away the hardest thing I have done for many a year, up Pyg track in 6 hours and down Llanberis path in 3 1/2, this was for you Alfie Bear, please click on the link and give whatever you can. Many thanks to Simon Lock and Kelvin Bull for sticking with me, and thanks to Dave Evenett and Scott Russell for looking after Evan."
A massive well done and thumbs up guy. Our heartfelt thanks to you all.
Zoe, Danny & Boys ♥