DIPG Clinical Trial (BIOMEDE)
Posted on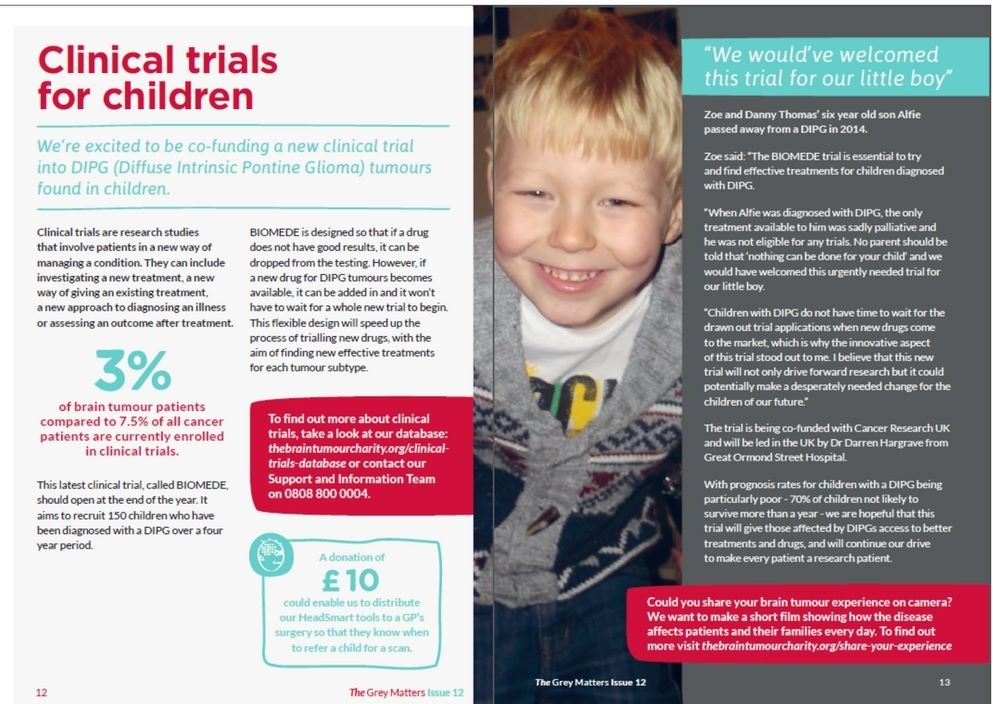 Dr Darren Hargrave and his team at Great Ormond Street Hospital are testing three new drugs in children with Diffuse Intrinsic Pontine Glioma (DIPG) with drugs selected.
The BIOMEDE trial, which is being funded by The Brain Tumour Charity and Cancer Research UK, will test one of three new drugs in 150 children with DIPG, over a 5 year period.
The three drugs Erlotinib, Desatnib and Everolimus are all used successfully in the treatment of other Cancers.
The drug used to treat each child on the trial, will be selected based on the molecular subtype of their particular tumour. This will be determined via biopsy.
The flexible design of this trial means that if one drug is not working, it can be dropped in favour of an alternative.
The Biomede trial is essential to try and find effective treatments for children diagnosed with DIPG.
"Children diagnosed with DIPG do not have time to wait for drawn out applications, when new drugs come to market, which is why the innovative aspect of this trial stood out to us. Our Alfie was not eligible for any trials, and the only treatment available to him was sadly palliative. We hope that this new trial will not only drive forward research, but has the potential to make a desperately needed change for future children affected by this horrendous disease."
For information on active clinical trials, please visit: http://dipgregistry.org/clinical-trials/