Choccywoccydoodah - Alfie Bear Cake
Posted on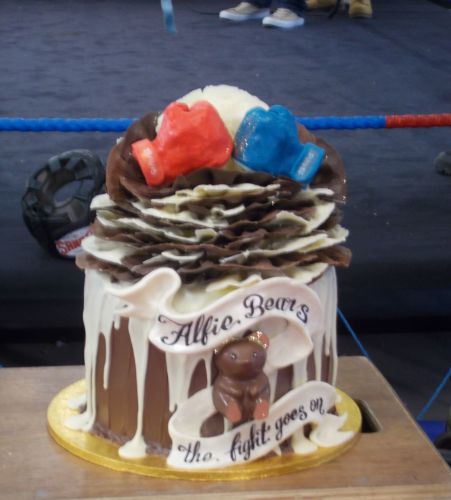 During 2015, Tina Weaving from Northants Police, contacted the popular cake company, Choccywoccydoodah to ask if they could donate a cake
for the Blue Light Boxing event raffle.
Choccywoccydoodah not only offered to make a special Alfie Bear cake, but they asked if they could feature it on their shows new series.
Last November, Choccywoccydoodah came to Northamptonshire, and filmed Danny and Alan Dyer, as well as some of the
Police officers training for fight night.
Following this, Danny and Zoe, Alan and Tina all travelled to Brighton to meet the Doodah's for the big cake reveal.
It was an amazing day, and the cake was more than we could ever have imagined.
On the front of the cake, was the wording 'Alfie Bear - The Fight Goes On' which has now became a phrase used often, particularly in regards to the Annual Bluelight Boxing event, organised by Alan Dyer.
During the bluelight boxing event, the cake was cut up and sold, raising over £300 for Alfie's Journey Fund - The Brain Tumour Charity.
We would like to thank Choccywoccydoodah for making such a beautiful Alfie Bear boxing cake, and for helping to raise awareness of DIPG by featuring it on their new show.
We would also like to say a huge thank you to Tina Weaving and Alan Dyer for all their help and support with this.
The Alfie Bear cake was featured on Choccywoccydoodah: Series 7 Episode 10 ♥