Alfie Bear's Picnic 2016
Posted on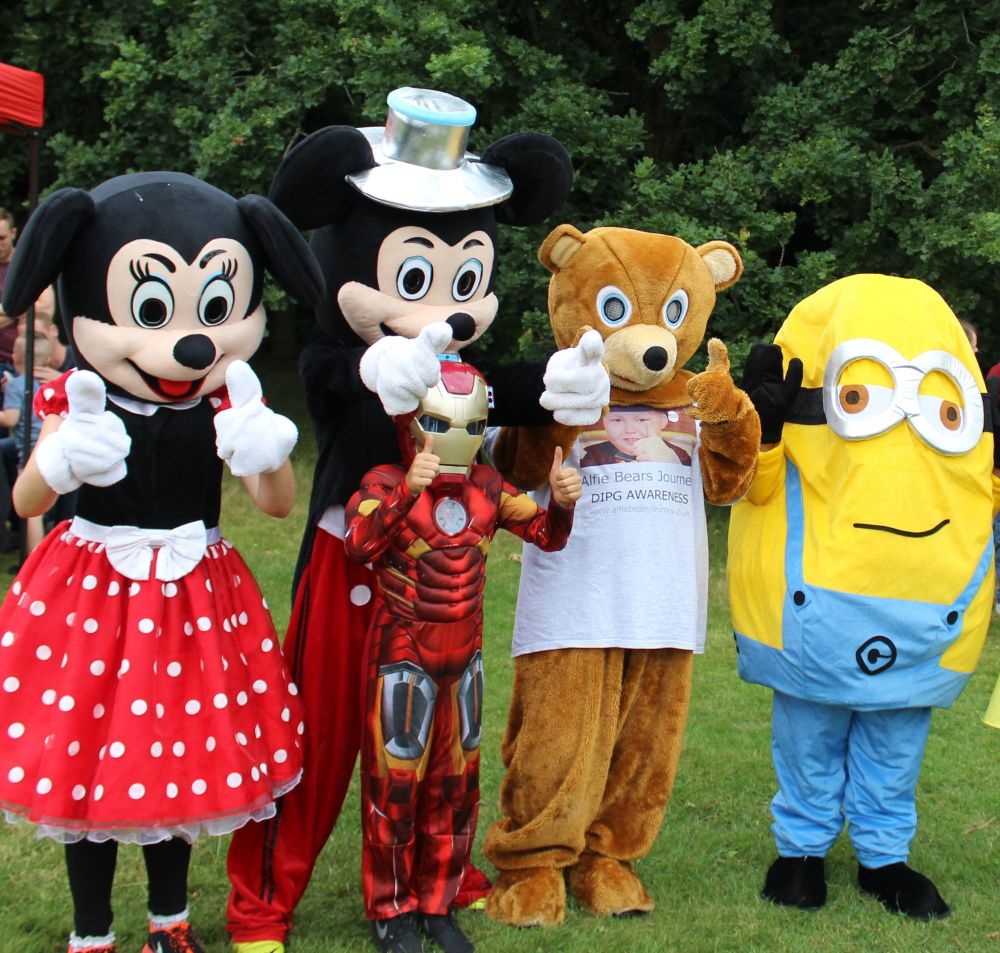 Wow! What an amazing day at Alfie Bear's Picnic.
The day kicked off with music from Tyronne and Matt, and a row of beautiful craft stalls and fete games.
As always, our Alfie Bear brought the sunshine ♥
The BBQ was fired up, and it was lovely to see the children lining up with their teddy bears, collecting their themed lunches, and to see so many families sitting in the picnic area and enjoying the sunshine.
The Children seemed excited when Hunsbury Bear and Paw Patrol arrived, along with Rapunzel.
Later, our Super Alfie Bear mascot arrived with Nicky and Millie Mouse and a cheeky minion in toe.
Keirstin was busy painting faces and the children enjoyed making sand art over at Twit Twoo's.
Children ran wild over at Nerf Rebel, and the adults seemed thrilled with the old-fashioned penny arcade.
Northants Police were there with a Police van, and kindly gave out goodie bags to all the children, as well as happily posing for photo's.
The mega slide was busy all day, even the characters had a go.
When the Hunsbury Bear wasn't trying his hand at some Nordic walking in the park, he was over at the Ironstone Railway greeting families, who enjoyed the mud kitchen and train rides.
Myra kindly brought her candy floss stall to the park, which went down a treat.
We were all excited when Minnie Mishaps arrived with her bubble's and circus skills. The bubble display was absolutely fantastic and enjoyed by all.
Ayesha and Matt from The Brain Tumour Charity attended the picnic and did some filming. It was lovely to have them both join us for the day.
We were honoured to have a special visit from the Deputy Mayor and Deputy Mayoress.
Cllr Gareth and Terri Eales were both lovely and Cllr Gareth Eales gave a heart-warming speech before introducing Georgia from the 'Royal Blue Lancers Majorettes'
Georgia gave her amazing performances, and did a fantastic job performing on her own, everyone clapped along. Georgia chose some children from the picnic to wave the flag and shake some pompoms, which they all did brilliantly.
Next up was Alfie Bear's Character Parade. Super Alfie Bear Mascot, Nicky and Millie Mouse, Minion, Iron Man Sam and Georgia from the Majorettes all walked on and danced to 'Gangnam Style'
This tribute to Alfie was our Ryan's idea, as he knew how much Alfie loved the character parade at Euro Disney. Gangnam Style was also one of Alfie's favourite songs so it was very fitting for the day.
The character parade made up of Alfie's family and friends was very popular particularly with the children attending the picnic.
After their performance they all posed for a big thumb up photo. It was perfect!
Following the performances, the raffle was drawn. There were so many wonderful prizes, and we would like to thank everyone who generously donated one.
A lot of the awareness and symptom cards were taken, which is always nice to see as this means more people are now aware of DIPG, Paediatric Brain Tumours and the signs and symptoms.
The picnic raised over £2322.07 for Alfie's Journey Fund (The Brain Tumour Charity) including £110 for Ronald Macdonald House in Oxford.
I would like to personally thank my fellow organiser Val, who I could not have organised the picnic without. She put a lot of work into the picnic and it was lovely to work with her again.
We would also like to thank everyone who attended the picnic this year, and all those who helped and supported the day. We really appreciate your on-going support of Alfie's Journey Fund.
Special Thank You
Thank you to Anne White for all her help and support with the picnic and for running the food area.
Thank you to Graham Thomas for all his help, organising the generators and kindly donating the fuel.
Thank you to all our family, friends and volunteers who came and helped set up, run stalls, pack away etc.
Thank you to Mavis and the friends of west Hunsbury parks for being stewards at the event and selling raffle tickets. You were all wonderful.
Thank you to Kevin and the guys over at Northampton Ironstone Railway for joining us at Alfie Bear's Picnic and running the train rides and opening their café and grounds to the public. Thank you also for the generous raffle prizes.
Special thank you to the Deputy Mayor and Deputy Mayoress for attending the picnic and giving such a wonderful speech.
Thank you to the Hunsbury Bear for coming to meet the children at the picnic and joining in with the day.
Thank you to Linda and Eileen from West Hunsbury Parish Council for kindly volunteering to help in the food area.
Thank you to Northamptonshire Police for attending the picnic and all their support.
Thank you to Nicky and Tracey, who did a fantastic job cooking the BBQ.
Thank you to Warburton's for kindly donating the rolls and bread for the picnic area and BBQ.
Thank you to our local Co-op for helping us with this.
Thank you to Ethan and Malcolm from the Saints who stepped in last-minute and helped us out.
Thank you to Kirstin for being our face painter for the day and to Myra for running her candy floss stall.
Thank you to all the lovely stall holders, who all got involved the day.
Thank you to NEAT for being our first aiders for the day, you were all fab.
Thank you to Matt Owen for lending us his music system for the day and helping Ty to run it.
Thank you to Ty for being our DJ again.
Thank you to Ryan, Rhys, Jess, Alfe and Sam for dressing as characters and entertaining the children.
Thank you to Evan for taking the photo's.
Thank you to Karen Rogers (AKA: Minnie Mishaps) who was fantastic entertaining the children with her bubble show and circus skills.
Thank you to Georgia and The Royal Blue Lancers Majorette's.
Thank you to Rhiannon and Chanice for running the inflatables.
Thank you to all the stall holders and attractions who suported the day.
Thank you to Just Party Northampton for coming along with their characters from Paw Patrol as well as Rapunzel.
Thank you to Camp Hill Community Centre, St Benedict's Church and Parson's Meade and The Saints for kindly lending us their tables.
Thank you to everyone who lent us marquees and gazebos'.
Finally, a big thank you to everyone who attended Alfie Bear's Picnic and helped make it such a wonderful day in memory of our Alfie Bear.
We look forward to seeing you all again next year :-)