A Special Cheque Presentation
Posted on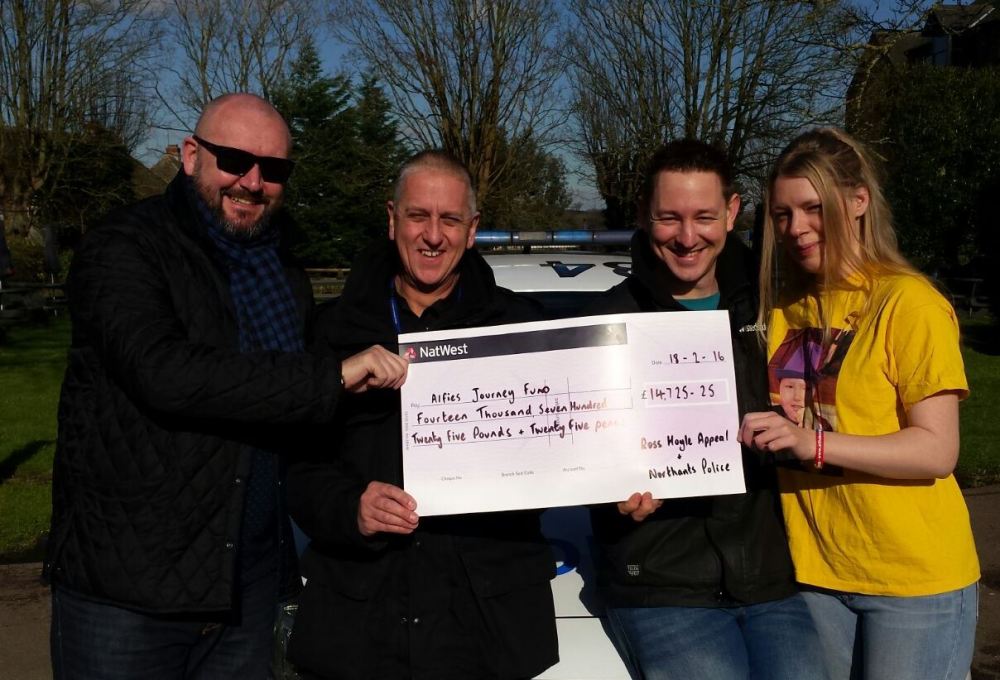 Despite being forecast heavy snow, the sun was beaming on Thursday when we were presented with this incredible cheque for Alfie's Journey Fund.
We are very honoured to have received this cheque from Alan Dyer and Andy Hoyle, from the proceeds of Alan's 'Blue Light Fight Night' which saw 20 Police Officers step into the ring in honour of Alfie Bear last November.
The night raised an incredible £14,725.25 for The Brain Tumour Charity - Alfie's Journey Fund. Wow!
Our warmest thanks to Alan for his ongoing support and the hard work that he continues to put into these events for Alfie's Journey fund. Big thank you to the Officers and everyone from Northants Police who helped and supported the evening.
During the boxing event, after watching Alfie's awareness video, Andy Hoyle made a very generous donation on behalf of 'Ross Hoyle's Appeal' which was set up after Andy's own Son, Ross, was diagnosed with a brain tumour.
Ross Hoyle's Appeal kindly donated £5,599.52 to Alfie's Journey Fund, as they personally know how important Paediatric brain tumour research is for future children.
We have been extremely touched by this special donation and send our heartfelt thanks to Andy, Ross and family ♥
Following the boxing event, Ben Campbell from the company 'Kudos' has kindly donated £1,000 towards the total.
Big thank you to Ben and Kudos for their generous donation, and thank you to Alan Dyer for all his help with this.
The grand total from the 'Blue Light Fight Night' now stands at an incredible £15,725.25