Blue Light Fight Night 2015
Posted on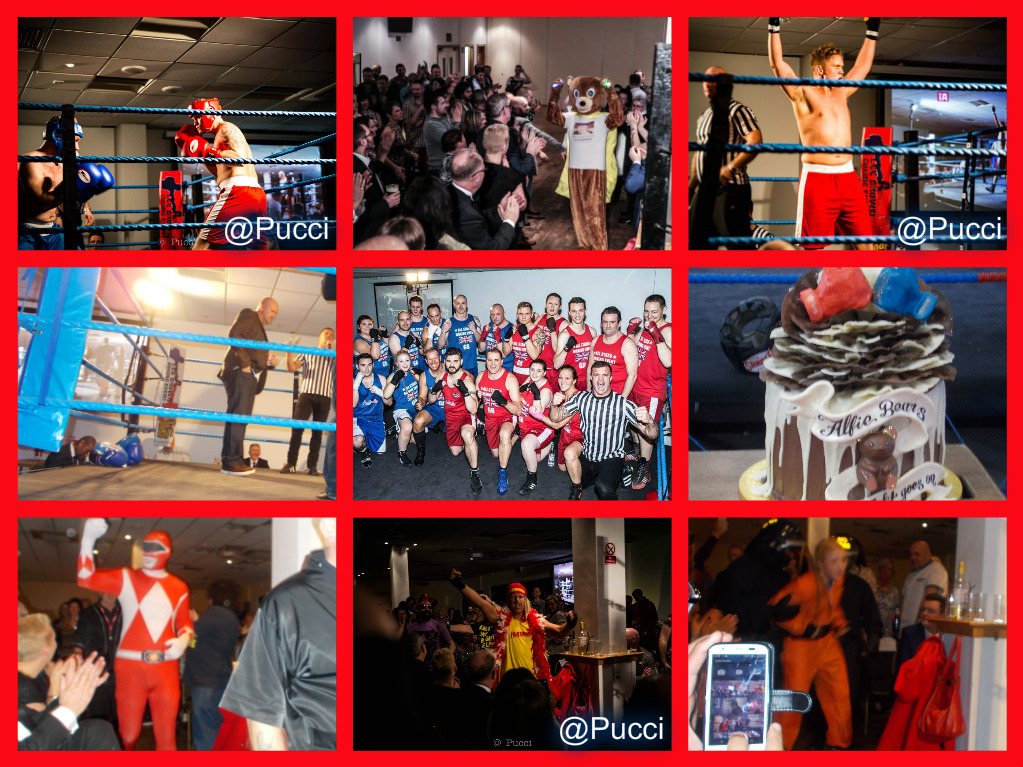 Blue Light Fight Night 2015
On the 28th November 2015, Alan Dyer held his annual boxing event at Franklin's Gardens, home of the Northampton Saints in aid of The Brain Tumour Charity - Alfie's Journey Fund.
It was an incredible evening with hundreds of people coming to support the 20 Police Officers, who stepped into the ring and gave it there all for such a worthy cause.
The Officers entrances as well as their fights were extremely entertaining. Thank you and well done to them all.
Our heartfelt thank you to Alan Dyer for organising it and for his continued support. The fight night is such a huge event and we know how much hard work and dedication Alan puts in to make sure that it is successful.
The night kicked off with a lovely sit down meal where the Storm troopers from UK Garrison, made an appearance and kindly posed for photographs with the guests.
Meanwhile the Police Cadets were all busy helping out at the event. They all worked so hard and looked very smart for the occasion.
In the next room, Guests were watching some kickboxing bouts and being entertained by the talented students from Northampton Martial Arts School.
As the room quickly filled up, there was an overwhelming atmosphere as everyone excitedly awaited the first fight of the night.
Big thank you to Compere Host, Ash Turner, who did a fantastic job entertaining the crowd throughout the evening and helping give the funds a boost..
Thank you to Boxing Event Promoter, Lee Brown and his team for all their help and support..
Thank you to Richard Pucci who kindly took photographs of the fights for us.
It was also fantastic to have some well-known faces there to support the charity. Northampton Saints star, Ethan Waller came to show his support and kindly organised some fab auction prizes. Dominic Waldouck from London Irish, travelled down from London to support the evening and Northampton's very own GB Boxer, Chantelle Cameron attended the night and gave an inspirational talk. Thank you so much to all three of them.
Big thank you to Tina Weaving who kindly organised for the yummy cake company, ChoccyWoccydoodah to bake a big cake in honour of Alfie Bear. The cake was amazing and sold extremely well on the night. Thank you Tina and big thank you to the doodah's ♥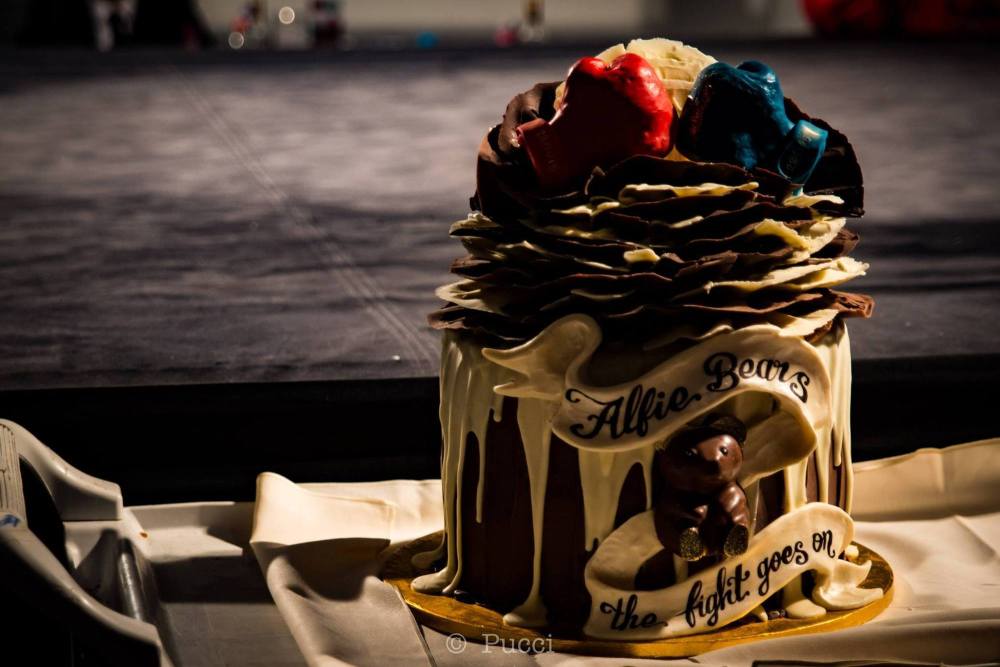 Thank you to everyone who donated auction and raffle prizes, helped and supported the event, sold raffle tickets, wristbands and event tickets and of course a big thank you to everyone who attended the evening and helped raise an incredible £14725.25 for The Brain Tumour Charity - Alfie's Journey Fund.
We would like to say a special thank you to the person who made a very generous donation to Alfie's Journey Fund on the evening. We are extremely touched by your kindness ♥
The Fighters
The fighters entrances seems to get bigger and better every year.
This time around we saw among other things, a human punch bag, Darth Vader, Storm troopers, a female sumo wrestler, a power ranger and who can forget Liam O'Neill entering the ring dressed as 'The Hulk' and breaking out into a full dance routine :-) We saw Carol stepping out behind two human rottweilers (You can't make this stuff up) followed by a convict in restraints.
The last fight of the night was Danny and Greg. Danny was honoured to be apart of the fight night this year, and battle it out in the ring in memory of our little boy. He stepped out in the official Alfie Bear Mascot, complete with a bright yellow superhero cape and glow sticks.
Danny and Greg went pound for pound and despite both being tired by the final round, they agreed to do an extra one when the crowd started chucking more money in the buckets.
Like all the fighters that night, they both did amazing and ended the evening on a high.
Thank you to the following Officers....
1. Ivan 'LETS GO DO WHAT HAPPENS' Bentley Vs David 'THE PUNCHBAG' Canfield
2. Pete 'DARTH VADER' Winterflood Vs Pete 'THE HAMMER' Douglas
3. James 'FORCE POLICY' Atter Vs Matt 'THE FORCE' Bradbrook
4. Kelly 'FISTS OF FURY' Hazelwood Vs Alice 'THE DESTROYER' Doughty
5. Phil 'THE SMASH FROM THE MASH' Wilson Vs Curtis 'BOO BOO' McGreevey
6. Louis 'THE RANGER' Hawkins Vs Liam 'I THOUGHT THIS WAS STRICTLY' O'Neill
7. Carol 'THE ROSSWEILER' Ross Vs Rachel 'LAWLESS' Scott
8. George 'GENTLY' Swinfield Vs Dan 'THE BABY FACE ASSASSIN' Gatland
9. Chris 'THE GOSMONAUT' Gosmore Vs Joe 'SICKNOTE' Studd
10. Danny 'TONED ON DOUGHNUTS & KEBABS' Tyers Vs Greg 'THE SHREDDER' Mead