Christmas Dinner in Memory of Alfie Bear
Posted on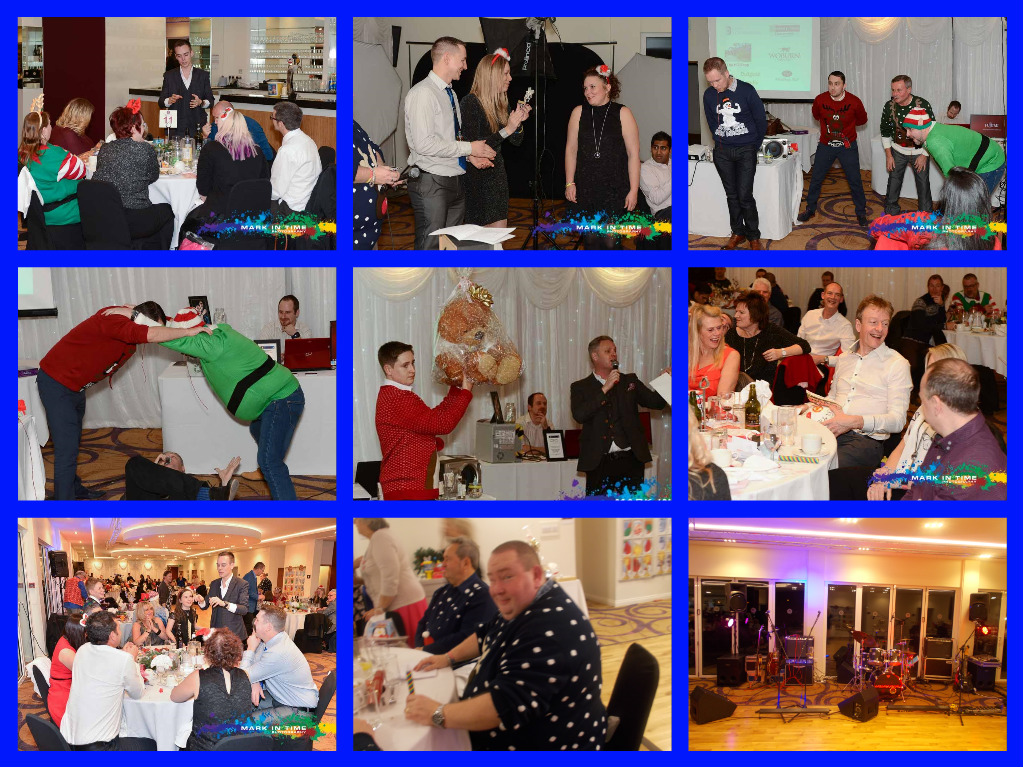 Alfie's Charity Christmas Dinner
On the 21st November 2015, My Brother Graham held his annual charity dinner in aid of Alfie's Journey Fund.
This time, it was Christmas themed and many of the guests dressed in their best Christmas jumpers for the occasion.
After a pea shooting war at dinner, which we think the adults perhaps enjoyed more than the kids,we were all thoroughly entertained by Magician and illusionist Jamie Docherty, followed by music from the amazing band Accrington Stanley.
The fantastic, Ash Turner was our comPeer host for the evening, working up the room with his fun games followed by the auction.
The surprise of the evening came when one generous guest won the bid for our official Alfie Bear mascot and then after paying for it he kindly put the bear back in to be re-auctioned.
It was then purchased again by family friends, raising a total of £370. Wow!
Most importantly, lots of awareness of DIPG was raised through the speeches and awareness video.
Photographer, Paul Bennett was there on the evening on behalf of 'Mark in time Photography.' The photo's were fantastic and such a lovely memento for a memorable evening.
Thank you Paul. If you didn't get a chance to buy your photo's on the night, you can now purchase them directly from Mark in Time Photography's website http://markintimephotography.co.uk/Store/2015-events/black-tie--dinners/alfies-journey-charity-dinner/
Congratulations to all those who received a special Alfie's Superstar Award. It was lovely to see so many of our dedicated supporters together in one room.
Our Thanks..
We would like to say a special thank you to Graham Thomas, for his continued support and for all the hard work he put into organising Alfie's Christmas Dinner. The evening was absolutely fantastic and a beautiful tribute to our Alfie Bear. Thank you to all our family who helped set up. Thank you to Chrissie and Ann for organising the raffle. Thank you to Helen for making the beautiful table centre pieces. Thank you to Ash Turner for entertaining us all through his fun games and auction. Thank you to the amazing band, Accrington Stanley and Illusionist Jamie Docherty for entertaining us all throughout the evening. Thank you to the lovely photographer, Paul Bennett working for 'Mark in time photography' for taking all the photo's. Thank you to Northampton Cricket Club for the fantastic venue and hospitality. Thank you to Tyronne, Evan, Ryan and Rhys for selling the raffle tickets on the night. You did a great job boys. Big thank you to everyone who attended and supported the evening, helping to raise an incredible £5,505.64 for The Brain Tumour Charity - Alfie's Journey Fund.
We are as always, overwhelmed by the love and support shown for Alfie's Journey Fund.
Our Sponsors
Thank you to all the wonderful people and companies who kindly donated auction and raffle prizes, and helped to boost the evenings total.
We appreciate all your support!