Childhood Cancer Awareness
Posted on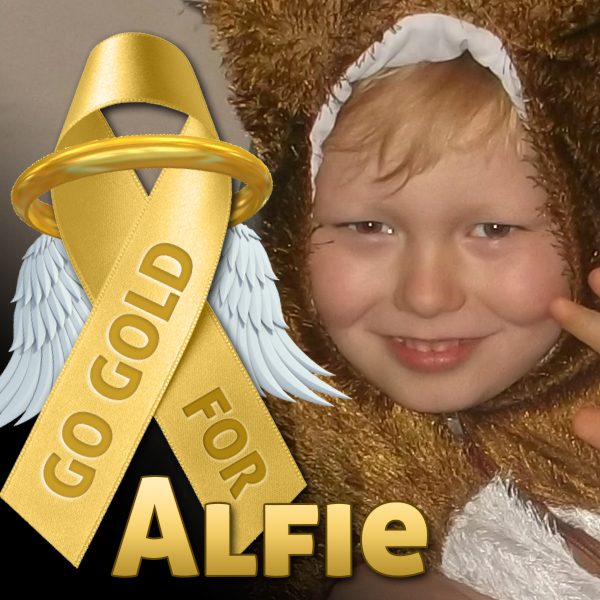 The 1st September marked the start of International Childhood Cancer Awareness Month. It has been lovely to see some famous landmarks lit up gold and social media filled with the gold ribbon in honour of all children affected by Cancer.
Special thanks to 'The Go Gold Project' for making the beautiful memorial badge (see above) in memory of our precious Alfie Bear.
Our Alfie is of course the reason raising awareness is so important to us. Before Alfie was diagnosed we knew very little about Childhood Cancer. We believe that sharing our Alfie's story and talking about it to people is helping to raise vital awareness. We will never stop talking about it because we have now become Alfie's voice and also because Children can't fight Cancer alone.
This month we have seen many articles and posts on the importance of symptom cards. We have given out thousands of HeadSmart symptom cards through local schools and events. When we took Alfie to the GP he was displaying four symptoms of a brain tumour and by the time we took him to a&e he was displaying six. Despite this, Alfie was still discharged that evening with no mention of a brain tumour. Following Alfie's diagnosis we received a symptom card pack from HeadSmart. I remember feeling quite angry when I first read the card because if we have had access to one before hand we would of been able to show it to a Doctor and say "Look our Son has all these symptoms. We want you to look in to this."
Recently, more than one thousand GP's took part in a campaign where 32% of them said that their lack of awareness of childhood cancer symptoms was a problem. Yet we have found that many GP surgeries refuse to display the symptom cards. This clearly needs to change.
Abbies Army DIPG Awareness Film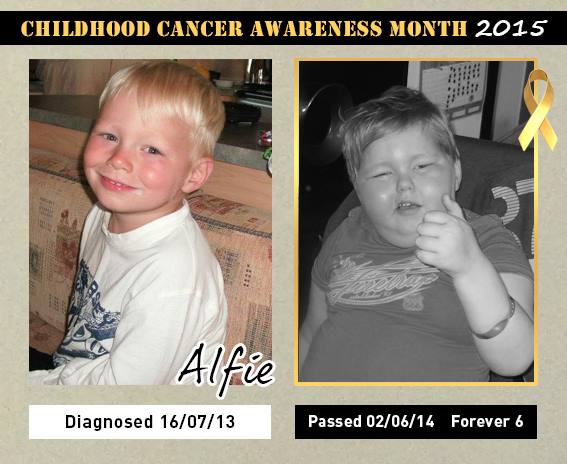 We would like to thank Abbies Army for including our Angel in their powerful DIPG Awareness film this month. Seeing just some of the real faces of DIPG all together in one film was emotional to say the least, but a true reminder of the devastating reality of this childhood brain cancer. The video can be seen here, please share to help spread awareness and to stop DIPG being a death sentence for our children https://www.youtube.com/watch?v=kVah2RoiUnE Thank you ♥
Cheque Presentation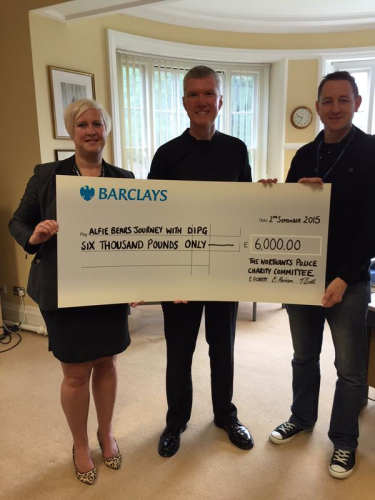 Back in May, Northants Police held their annual ball in aid of The Brain Tumour Charity - Alfie's Journey Fund. The evening was a great success, raising a fantastic £3,000.
Barclay's kindly matched funded the event raising the total to a staggering £6,000. On the 2nd September, Danny was excited to receive this cheque presented by Theresa Cross and Chief Constable Simon Edens.
Our warmest thanks to everyone involved and for their continued support ♥
Back to School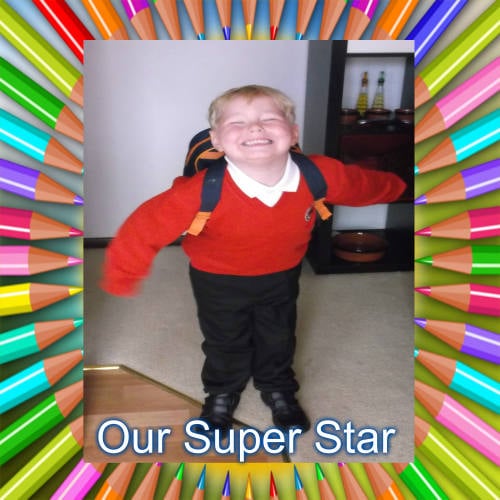 Back to school day was a bitter sweet day for us. Ryan started his first day of top school and Tyronne started his GCSE year. They both looked so smart and grown up, we are incredibly proud of them both. As always we took a back to school photo, we only wish Alfie could have been there smiling next to his big brothers, excited to start year 3. Wishing good luck to all the children who are starting new classes/schools and thinking of all the children who sadly can't be with them ♥
Childhood Cancer Awareness Morning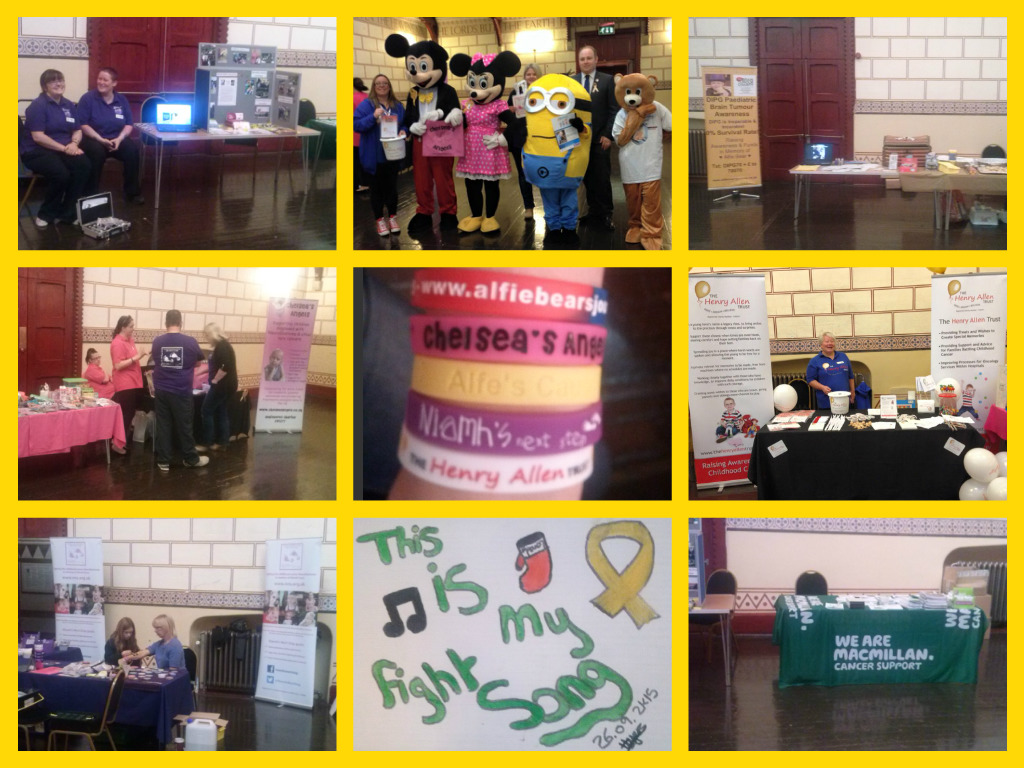 On the 26th September, we attended the Childhood Cancer Awareness morning at The Guildhall together with four amazing local charities. Thank you to Alfe's Cause for inviting us to join them and Chelsea's Angels, Henry Allen Trust and Niamh's Next Step. It was lovely to see everyone and to have the opportunity to speak to our MP and Mayor as well as a GP and Mary from The C*Word. It was great to be one of five charities coming together to raise awareness of Childhood Cancer in Northamptonshire.
Our Superhero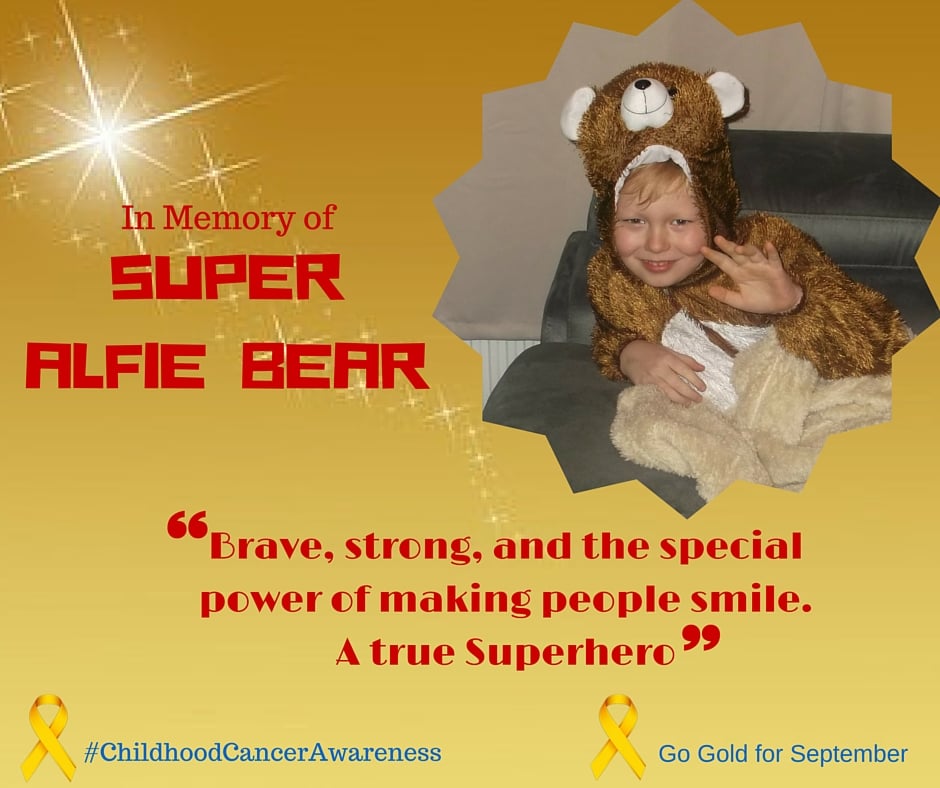 We noticed many people posting pictures of their favourite Superheros during September and we wanted to share ours with you all. Alfie may not have appeared in a comic book but he will always be the bravest Superhero to us..... Our Superstar. Our beautiful Alfie Bear ♥