Alfie's Journey Fund News
Posted on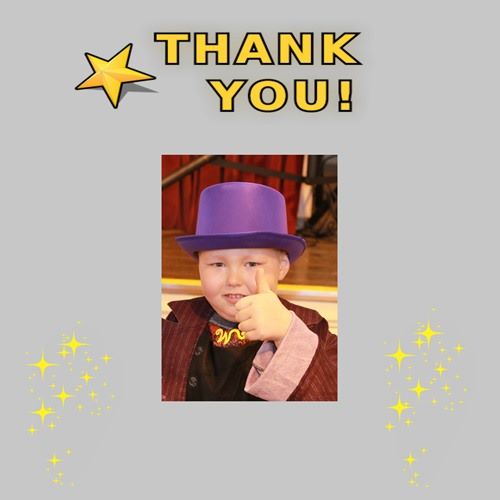 So far, 2015 has been a busy year for us. We would like to thank our family and friends for their continued support and take this opportunity to welcome the new supporters who have joined Alfie's Journey Team this year.
We would also like to thank all those who have donated, requested sponsor packs, held events, handed out awareness cards and supported Alfie's fund. We couldn't do all this without you and we thank each and every one of you for helping us to raise over £34,000 for future research, in memory of our beautiful Alfie Bear.
This year started with Northants Police choosing The Brain Tumour Charity - Alfie's Journey Fund as their charity of the year 2015. We were all thrilled when we was told the news. This means a great deal to us and will no doubt give our Alfie's fund a massive boost over the coming year. We would like to thank Northants Police for their continued support, especially those who have been personally involved throughout Alfie's journey.
Beards for Alfie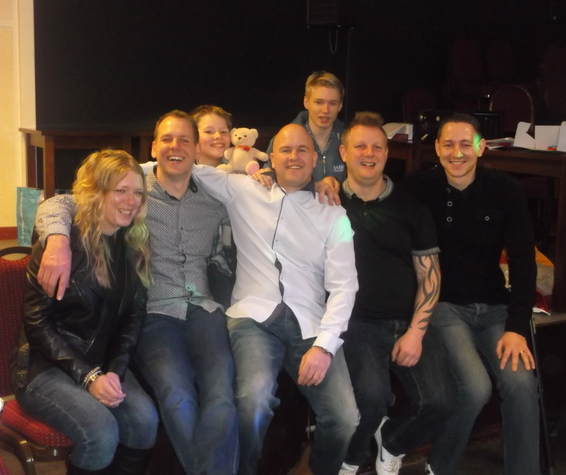 On Friday 16th January, Alex Harris, Glen Simpson, Stephen, Martyn and Colin held a Karaoke/Disco where they had their beards shaved off. The lads had grown their beards for Alfie since the 1st August 2014. Between their Just Giving page and money donated on the night, they raised an amazing £1023.13 for Alfie's Journey Fund. Big thank you to them all for their support and for their dedication to the cause.
Helen's Sponsored Hair Grow Challenge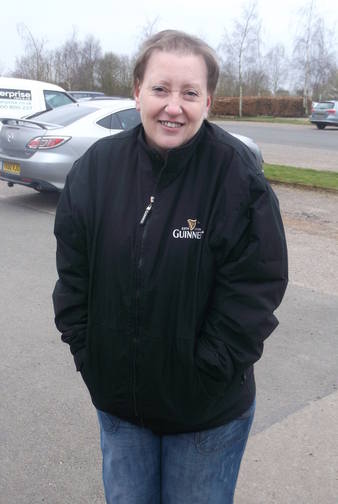 Alfie's Auntie Helen has done incredibly well with her hair grow challenge and has raised a wonderful £468.00 for Alfie's fund. Helen has suffered with Alopecia for the past 13 years and has always worried about growing it back as it becomes patchy and itchy. However Helen is determined to do it for Alfie and we are all extremely proud of her. Helen has extended her challenge until the 02nd June (Alfie's first Angelversary). If you would like to sponsor Helen on her amazing challenge here is the link https://www.justgiving.com/InAlfiesMemory/
Big thank you Helen. You are doing Alfie proud ♥
Thank You
Big thank you to James Atter who raised a further £460 from his Tough Mudder Challenge for Alfie's Fund.
Big thank you to Alfie's Auntie Christine, who held a Pampered Chef evening raising a fantastic £167.00 for Alfie's Journey Fund.
Big thank you to Alfie's Nana, who raised an amazing £638.55 for Alfie's Journey Fund from her indoor bowls event and raffle.
Big thank you to Army HQ, Andover who held a Valentines themed cake bake and raised a wonderful £95.00 for Alfie's Journey Fund.
Thank you to all of you for your support and for helping to make a difference.
The Brain Tumour Charity's Research Strategy - A Cure Can't Wait
At the end of January, The Brain Tumour Charity released their new research strategy 'A Cure Can't Wait.' The new strategy defines their priorities over the next five years as they aim to create a world where brain tumours are defeated. You can find Alfie's story on page 15 of the new strategy http://www.thebraintumourcharity.org/Resources/SDBTT/Documents/research-strategy-final-v2.pdf
In February, The Brain Tumour Charity issued their new printed news letter 'The Grey Matters' which includes a feature on proton beam therapy and some of the community champions and volunteers that have been vital to the success of the HeadSmart early diagnosis campaign. We also did an interview which is featured on page 11 http://issuu.com/thebraintumourcharity/docs/thegreymatters_issue8v2/10
World Cancer Day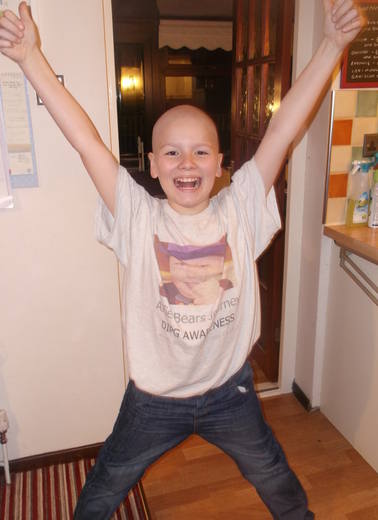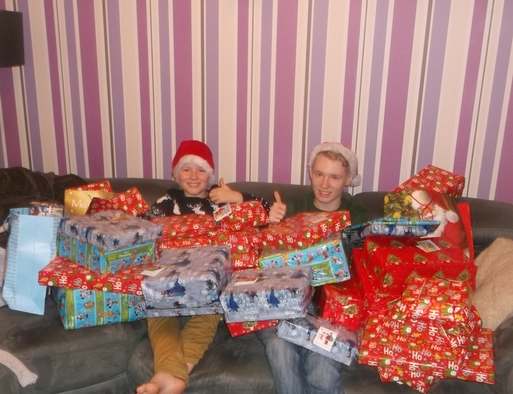 The 4th February was 'World Cancer Day.' On this day, our Ryan, aged 11 shaved off all his hair to raise awareness of Childhood Cancer. He also raised a fantastic £195 for his little brothers charity in just one day. In Ryan's own words "People with Cancer don't chose to lose their hair but I chose to do it to raise awareness for them."
On the 16th February, Alfie's amazing older brothers were praised in the local paper for their fundraising efforts. As well as fundraising for Alfie's Journey Fund, they have also fundraised for both Disney Ward, NGH and Kamrans Ward, JRH. Last Christmas the boys launched a toy appeal so they could take gifts into the children spending Christmas on the wards. They were both so pleased to have been able to do that and thanked everyone that helped by donating a toy. We are incredibly proud of them both.
Alfie's story reaches Seville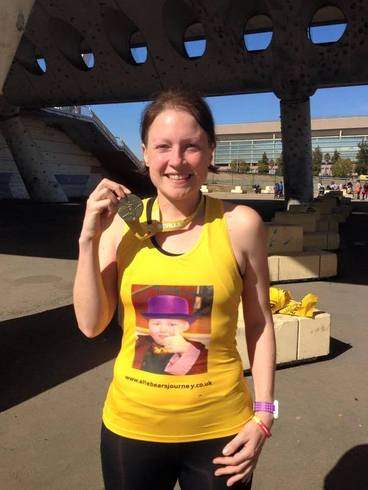 On the 22nd February, Michelle Lewis took her running to a new level when she flew out to Spain and ran 26.2 Miles in the Seville Marathon. This was the first time Michelle had run a marathon and we are honoured that she chose to do it for our Alfie. Michele completed the marathon in an amazing 5hrs 5mins. A huge well done to Michelle, we are all so proud of her. While in Spain, Michelle wore her Alfie's Journey running vest and was determined to raise awareness of DIPG and Alfie's story while she was out there.
Michelle was spurred on by the crowd who were all giving her the thumbs up on her way around. Michelle said she didn't understand why the locals were giving her the thumbs up until she looked down and saw Alfie's smiling face on the front of her vest with his famous thumbs up and this made her more determined. Michelle raised an amazing £847.41.
A huge thank you to Michelle from us all ♥
March - Brain Tumour Awareness Month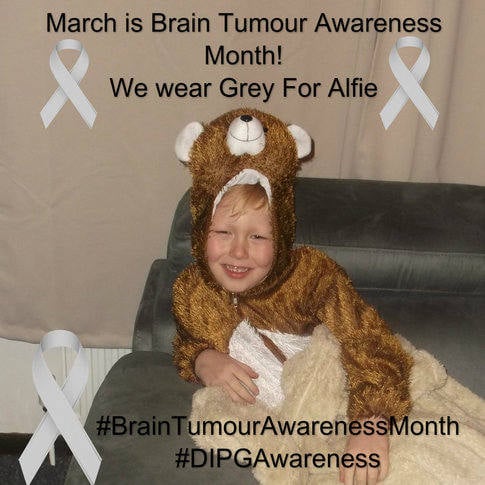 March is Brain Tumour Awareness Month and we all know how important awareness is. This year we have given out our awareness packs which include DIPG symptom cards, HeadSmart Symptom cards and an info/fact sheet on Paediatric brain tumours including DIPG. It is so important that people are aware of the signs and symptoms of brain tumours.
This month, the government was asked why there 'Be Clear on Cancer Symptom Awareness Campaign' does not include Brain Tumours. The public health minister, Jane Ellison MP response was
"A number of factors are taken into account when deciding which campaigns to develop and run, with one of the main criteria being the number of deaths that could be avoided through earlier diagnosis. The focus for national campaigns so far has therefore been on lung, breast (in women over... 70), bowel, kidney and bladder, and oesophago-gastric cancers."
This is so frustrating and just doesn't make any sense to us. Brain Tumours are the biggest cancer killer of children and people under the age of 40 in the UK. So we can't understand why Brain Tumours are not being made a priority? HeadSmart have halved diagnosis times in children, but have still not been included in the Government's early diagnosis campaign. This is not acceptable!
The Brain Tumour Charity are calling on the public to help make the change and ask that you please add your voice by writing a message to your MP or promoting their general election manifesto at http://bit.ly/1B1fbI0.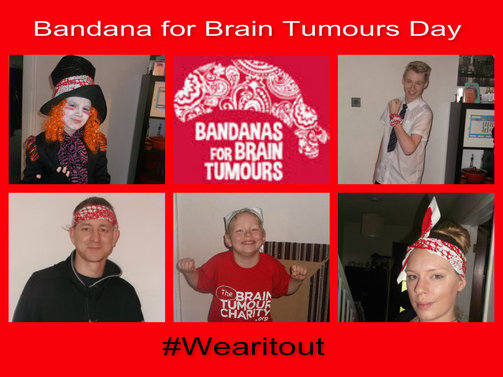 The 6th March was 'Bandana for Brain Tumours Day' which is The Brain Tumour Charity's campaign to raise awareness of this awful disease. The Bandanas for Brain Tumours mission was to raise funds to accelerate the pace of ground-breaking research that can help save lives now and help create a chain reaction of awareness. It was great to see so many people from all over the country wearing their bandanas with pride.
Team Alfie's Sponsored Bike Ride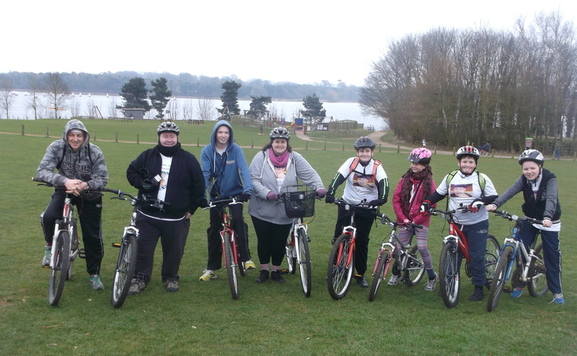 Alfie's Brothers and Cousins wanted to complete a bike ride in Alfie's memory to raise awareness of DIPG. On the 14th March, Alfie's brothers, cousins, Dad, Uncle Graham & Auntie Chrissie all took to their saddles and completed a seven mile sponsored bike ride around Pitsford reservoir. The team was all wearing their Alfie's Journey t-shirts and despite some riding with injuries they all did amazing. Team Alfie have also raised a fantastic £525 and still collecting. A big well done to Tyronne, Evan & Chloe, Ryan, Rhys, Graham, Danny & Christine. I am so proud of you all ♥
Silverstone Half Marathon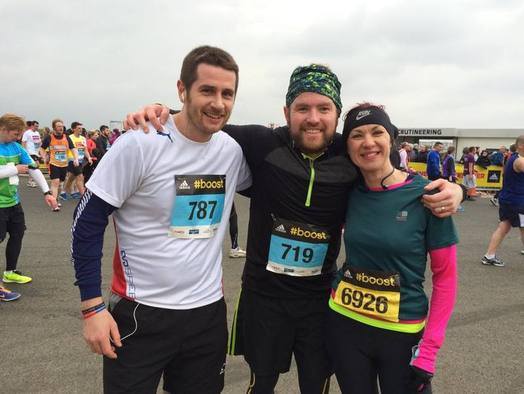 On the 15th March Craig, Carl & Abby ran the Adidas Silverstone Half Marathon for Alfie's Journey Fund. They completed the half marathon in under 2hrs 10mins and raised an amazing £425. Well done to Craig, Carl and Abbey and a big thank you for their support :-)