Letter to Heaven
Posted on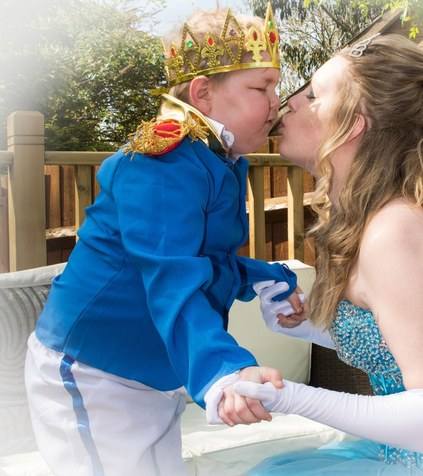 Dear my little Prince
You and your brothers make me the proudest Mummy in the world.
You were an amazing little boy who always had a huge smile for everyone that you met.
Your cheeky nature and wicked sense of humour only added to your beautiful charm.
I remember at nursery when you were only 3 years old, and the other parents would tell me how you comforted their children when they were upset.
That was you all over, such a loving and caring little boy with a huge heart.
You were born at 1.15 in the afternoon on the 02nd October 2007 at NGH, and from the first moment I saw you, I was overwhelmed with the rush of love that I felt for you.
Your perfect little face, your blonde hair, you looked just like an angel.
It was on that day that I promised to protect you and to love you with all my heart always.
You grew in to a beautiful little boy who loved to make people laugh and smile.
You were a born entertainer. Always singing, dancing or playing your latest instrument.
Your funny faces and phrases had us all in tears of laughter.
For such a little boy, you had a huge zest for life. I sometimes wonder if you somehow knew that your time here was so precious.
In such a short space of time, you did so much and touched so many people's lives.
You always loved dressing up, Ironic that you loved dressing up as Super Heroes and yet you turned out to be the biggest Super Hero of all.
When you became poorly, you never complained. You accepted that was your life now and continued to smile every day.
To think of you, our precious little boy having to have radiation and chemo breaks my heart.
You were always so strong and so incredibly brave.
Many people only saw the good times, the happy face, fun days out and the big smiles, because you were such a positive little boy.
Rarely did they see the bad days, the headaches early hours, the sickness, the frustration when you could no longer do things and the angry mood swings when your little body was going through treatment.
Those days were the hardest. Those days I wished I could take away your pain.
Yet even on those days, you still found a reason to smile, or to say something to make us all laugh.
I don't understand why you got ill. It is cruel and so unfair that you only got to live a short life when you should have had your whole future ahead of you.
People say we should feel blessed to have had "6 wonderful years with you" but 6 years is not enough, and I would have given anything to have had more time with you.
I never really knew what true bravery was until you got ill.
To see you, our beautiful little boy fighting the biggest fight and still smiling was both heart breaking and inspiring.
I used to think bravery came in adult form. I now know that is not true.
You will always be my little hero Alfie Bear and I miss you so much that it physically hurts.
I wish I could have saved you. I wish you never knew pain and suffering. I wish you could have had the future you so deserved.
Nothing will ever take away the pain of not having you here.
No longer hearing your laugh, or kissing your chubby cheeks.
No more snuggling on the sofa early hours when you couldn't sleep.
I can't bear to watch our favourite Disney films anymore. The magic has gone.
Maybe one day I will watch them again and think of you. One day....
You will always be my baby… our little superstar.
Whenever I think of you my heart bursts with pride.
I want you to know that not a day goes by when I don't think of you, miss you, love you.
Even on the darkest days, I only have to close my eyes and I can see you smiling back at me.
You're always on my mind and in my heart Alfie Bear. . .until we meet again my beautiful little boy.
You earned your wings at 1.15 in the afternoon on the 02nd June 2014 at NGH, and up to the last moment I saw you, I was overwhelmed with the rush of love that I felt for you.
Your perfect little face, your blonde hair, you were now an angel.
On this day I promise to protect your memory and to love you with all my heart always.
All my love always
Mummy xxxx