Brain Donation - Alfie's Story
Posted on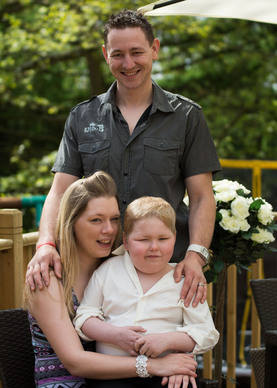 This is not an easy thing for us to write about but we know it is important to share our Alfie Bears full story with you all.
When we were first told our beautiful little boy had DIPG and that there was No Cure, we struggled to understand
...
or accept
that there was simply nothing anyone could do to save him.
As a parent, you want to protect your child and take away their pain, and in our desperation we searched the net, made calls, sent emails and read through hundreds of stories similar to Alfie's in the hope that someone, somewhere had a cure. Sadly no one did.

Somewhere in our search, we came across some American articles about 'Whole Brain Donations' and the importance of them for research. We had not heard of brain/tumour donations before, largely because here in the UK, health care professionals do not usually approach parents of children with DIPG, about it.
How do you ask a parent that is going through the most difficult and heart breaking
time of their life, to do something that will have no life benefit to their own child?

The more we looked into brain/tumour donations, the more we realised how important they are to drive forward research.
After all research is the key to finding new treatments and of course a CURE.
We both talked about it for a long time and we kept coming back to the same questions. If DIPG tumours were being donated 50 yrs ago would there be a cure today? Would it have made a difference to our Alfie? Of course we will never know the answer to those questions but just the wonder helped us to make our decision.

Our Alfie was a loving and caring little boy with a real zest for life, and we know that he would always want to help others if he could. So when we was told that Alfie's tumour was growing rapidly and aggressively and he didn't have long left with us, we pledged that after Alfie earned his wings we would donate his brain to research in the hope that it would save another child meeting the same cruel fate in the future.

After speaking to the medical team and the brain tumour charity, we decided to share our Alfie's story in The Brain Tumour Charity's new research strategy.
The research strategy called 'A Cure Cant Wait' calls for greater efforts to collect brain tumour samples across the UK to drive forward research into the disease.

Although donating our precious Alfie's brain, was an incredibly hard decision and not one any parent should even have to think about, we take comfort in knowing that a part of our brave little boy is still here helping others.
This is our Alfie Bear's legacy x

Alfie's story can be found on page 15 in the new research strategy below..