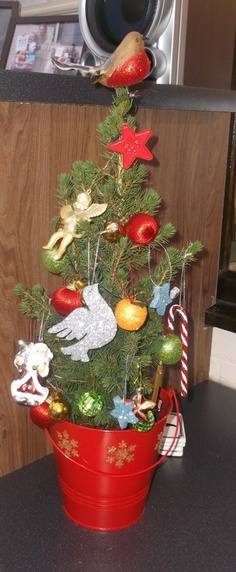 Christmas is nearly here and we have brought this special little Christmas tree to take up for our Alfie.
Tyronne and Ryan helped decorate it with all Alfie's favourite colours. There is also a Santa holding a bear, a cherub, dove, star and robin.
Each decoration has its own special meaning.
Alfie's Photo Advent Calendar
Like many children, Alfie loved to open up his advent calendar each morning. So this year we decided to make a special photo advent calendar in memory of Alfie at Christmas.
Look on our Facebook page for 'Alfie's Photo Advent Calendar' where every day up until Christmas we will be sharing a festive photo of our beautiful Angel.
We hope you enjoy seeing all our treasured Christmas memories of Alfie.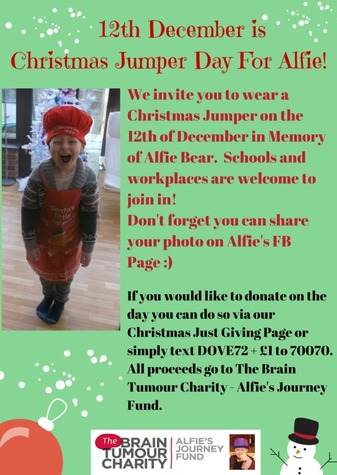 Christmas Jumper Day for Alfie
We will be holding a Christmas Jumper day for our Alfie on the 12th December.
Knowing how much our Alfie loved Christmas, we think this will be a lovely way to remember him on what is the first Christmas since our brave little boy earned his Angel wings.
We invite everyone to wear a Christmas Jumper on the 12th December and simply donate a minimum of £1 on the day to The Brain Tumour Charity - Alfie's Journey Fund.
Everyone is welcome to join in, including schools and workplaces.
If you fancy taking a photo of yourself or team wearing your Christmas Jumpers please feel free to share photo's on our Facebook page, we would love to see them.
You can donate your £1 on the day to Alfie's Christmas Jumper Just Giving page here https://www.justgiving.com/ChristmasJumper4Alfie or by texting DOVE72 + £ to 70070
Dove is the Christmas symbol of love and peace ♥
Thank you so much to everyone that has confirmed they are taking part already.
https://www.facebook.com/events/1578235172408613/?sid_reminder=8030207861210480640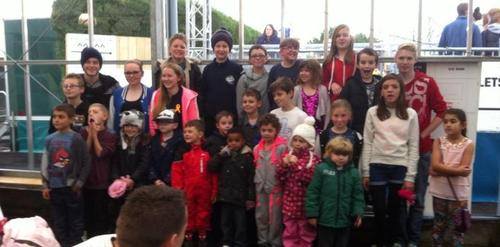 Ice Skating with Alfe's Cause Charity
Last month, we all had a fabulous afternoon Ice skating with Alfe's Cause.
We have before spoke about Alfe's Cause and how they are one of the local charities that have supported us as a family since our Alfie was first diagnosed.
There are so many lovely children and families at Alfe's Cause Charity and it is wonderful to see all the children playing together and having fun.
Karen and Shirley who run the Charity are amazing women, who we had the pleasure of attending 'The Pride Of Northamptonshire Awards' with back in September after Alfe's Cause was nominated for two awards.
We were very proud to be there to cheer them on.
Earlier this year they started a Childhood Cancer Awareness Campaign in partnership with 'Be Child Cancer Aware.'
Karen and Shirley have worked so hard in spreading awareness of Childhood Cancer everywhere from Schools to local libraries.
You can read more about the Alfe's Cause Charity and their fantastic Awareness Campaign here http://alfescause.blogspot.co.uk/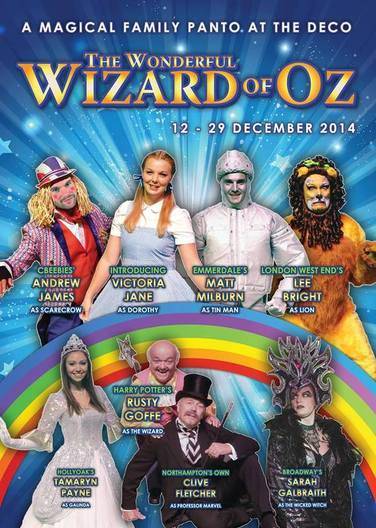 The Wonderful Wizard of Oz
The Wonderful Wizard of Oz is this years family Christmas Panto at The Deco Theatre in Northampton this December.
The pantomime is on from the 12th to the 29th of December and tickets start from just £9.00
The Deco Theatre are kindly donating £1.50 from every ticket purchased when you quote 'ALFIE'
We love a good Christmas panto and this one promises to be a magical night for all the family.
A big thank you to The Deco Theatre for thinking of our Alfie this Christmas.
To book your tickets please visit The Deco Theatre, Abington Square, Northampton, NN1 4AE or call them on 01604 622749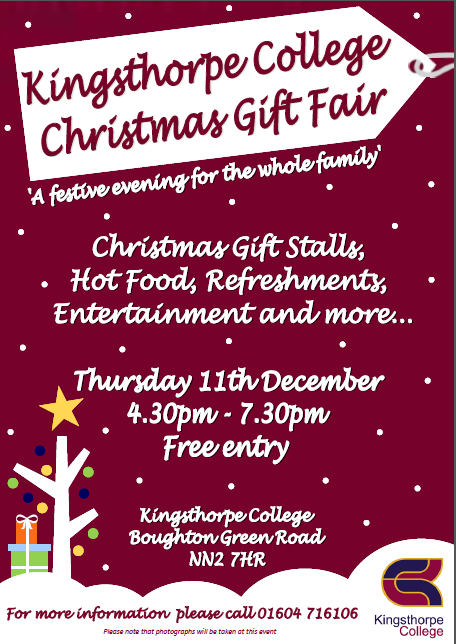 Kingsthorpe College Christmas Gift Fair
On the 11th December from 4.30pm - 7.30pm Kingsthorpe College in Northampton are hosting a Christmas Gift Fair.
It is set to be a fantastic evening with over 50 stalls selling a variety of items.
There will also be hot food and refreshments on sale, as well as loads of festive entertainment including Christmas themed face painting and performances by KC students. This event is open to the public and is completely free to attend
Alfie's Journey Fund Team have a stall at this craft fair. We will be selling mainly stocking filler items, such as sweets, lollies, reindeer food and reindeer noses.
Big thank you to my Sister Helen Turner who has made lots of yummy treats for our stall.
Tyronne and Ryan have been busy making up magic reindeer food for the event.
We will also be selling wristbands for a special little boy called Mikey who has been fighting a brain tumour since Christmas 2011. Sadly the tumour has wrapped itself around the brain stem and is still growing, and the UK have now ran out of treatment options for him. Brave Mikey and his family will be flying out to America in January 2015, where Mikey will receive a Cancer treatment called Proton Therapy. Mikey's family are busy trying to raise £20,000 to fund part of the trip and to cover expenses. You can read more about Mikey journey here https://www.facebook.com/MikeysWar
This is the first gift fair we have attended so we are very excited.
If you are in the Northampton area, please pop down and say hello. With so many fantastic stalls you are bound to find the perfect Christmas gifts.
Fundraising
Christmas Bake Sale
Big thank you to all the staff at the Army HQ in Andover who raised a fantastic £135.48 from their Christmas bake sale last Friday.
We hear the mince pies and chocolate log all went down a treat!
Thank you so much to all of you for your continued support of The Brain Tumour Charity - Alfie's Journey Fund this year.
Christmas Raffle
On the 13th December at South Forest, Edwinstowe there will be a sixties evening where Alfie's Nana is kindly organising a Christmas raffle for The Brain Tumour Charity - Alfie's Journey Fund.
Many prizes have been kindly donated and raffle tickets are still being sold.
Big thank you for your support and good luck with the Christmas Raffle :-)
Beards4Alfie
Since August Alex, Stephen, Glen, Martyn and Colin have been sponsored to grow their beards for our Alfie.
They are continuing to grow their beards up until Christmas day. So it will be a hairy Christmas in their houses this year :-)
We are hoping to get an updated photo of the guys soon to share on our page.
If you would like to sponsor them all on their fab beard growing challenge, you can do so here https://www.justgiving.com/Beards4alfie
Hair Growing challenge
Alfie's Auntie Helen is doing amazing with her hair growing challenge. At the end of November Helen said
"A huge knock back this weekend, I have a new bald patch. After 12 years of struggling with my hair, I can't expect it to be all plain sailing. After conversations with my daughter and my eldest nephew, I have also realised the sad reality, that they only remember me with long locks through photos. I refuse to give in. I will not let this beat me, the rest is doing ok. I will make Alfie and the children proud of me. If you would like to sponsor me, please click on the link below. Any encouragement is gratefully received."
Despite the set back, Helen is continuing with her hair growth challenge and we are all extremely proud of her.
If you would like to sponsor Helen you can find her page here https://www.justgiving.com/InAlfiesMemory/
Inspired By Alfie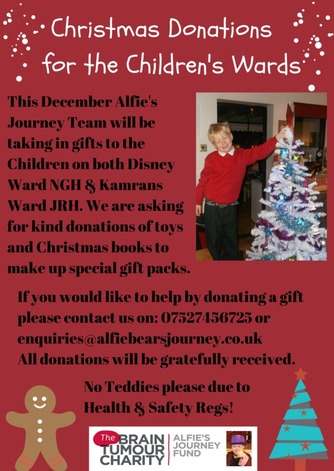 Back in August, Tyronne & Ryan decided they wanted to give Christmas gifts to the Children spending Christmas on Disney Ward and Kamran's Ward this year.
These are the two wards that our Alfie spent a lot of time during his journey with DIPG, and the care he received was amazing.
No child should ever have to spend their Christmas in hospital but sadly many do. The boys hope to bring a smile to many of the Children's faces by taking them in special gifts.
The boys are appealing for kind donations of toys or books.
The toys need to be boxed or packaged please. We cannot except stuffed toys due to health and safety regulations.
We have also decided not to give selection packs as some of the children may not be able to eat them.
If you would like to help by donating a toy or book this Christmas please contact us at [email protected]
Big thank you to Hunsbury Park Primary for kindly being a collection point for parents and staff.
Big thank you to The Hill Shop, West Hunsbury for kindly being a collection point for the local community.
Thank you so much to everyone who has already donated a toy or book for a child this Christmas ♥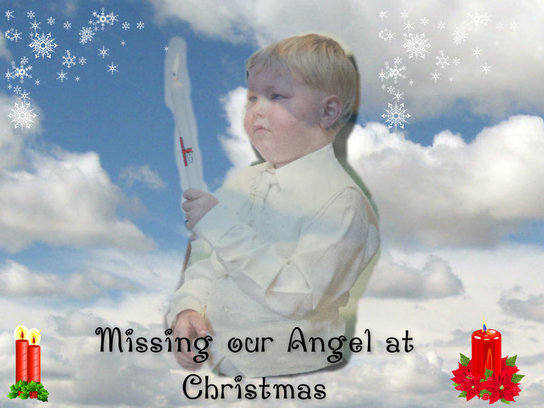 Christmas Angel's
This Christmas we will remember our Alfie and all the other Angels who have gone too soon.
We will think of all the Children spending Christmas in hospital, and all those battling Cancer at home.
This Christmas will be incredibly hard for us, and for many other families who have experienced the loss of their loved ones.
We will light a candle and think of our beautiful Alfie who we miss so very much, and all the other precious Angels.
This Christmas we will wish for a cure for DIPG and hope that one day, a Child can say
"This Christmas I have a future."
Our Best wishes to you all this Christmas and a heartfelt thank you for the amazing support you have shown us this year.
Zoe & Danny xx