Thank You for Helping to Make a Difference
Posted on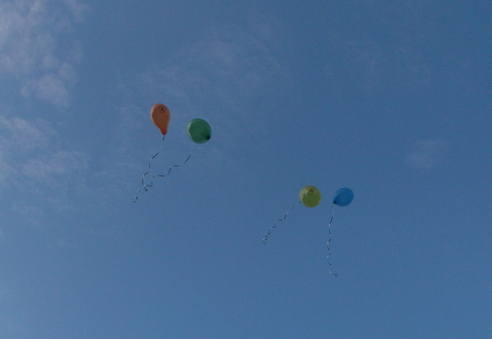 Alfie's Birthday
Sorry we have not updated the blog recently. The first birthday without our Alfie Bear was incredible hard, and we needed to take some time out for a while.
Many people said to us that the first times are the hardest but no one can prepare you for the actual day. Waking up on the morning of what should have been our beautiful boys 7th Birthday to a quiet home was unbearable.
This was a day when we would usually watch Alfie race down the stairs eager to open his present's. A day we would watch him blow out the candles on his cake and put his birthday badges on with pride.
But there were no badges this year, no presents stacked up on the table, no banners or party planned. All we had that morning was the quiet, and the empty feeling and the memories of birthdays past.
On the day, we went to visit Alfie and sat at his graveside. We took his new memorial bench up and released some birthday balloons. The boys lit a birthday candle and we spent Alfie Bear's birthday with him the only way that we could.
The sun shone brightly while we there, which we felt was a sign that Alfie approved :-)
In Loving Memory
Every time we see another child has been diagnosed with DIPG, our heart s go out to them and their families, as we know only too well, what they have yet to go through.
We follow a lot of children's journeys with DIPG online, and over the past few months many of those children have sadly passed away.
This is a harsh reminder of the utter devastation that DIPG causes.
Fly high sweet Angels. You are forever in our thoughts and in our hearts xx
Throughout Alfie's Journey, he was rarely seen without a smile.
In fact many of these brave children bear the same big happy smile on their little faces.
The one that says they know they are very ill but choose to smile anyway. That is true bravery.
It is these same brave smiles that inspire families and friends and communities to keep fighting together in their honour.
There have been days when we felt at rock bottom; days when we were so angry at the injustice of it all that we didn't even want to speak to people.
Then we think of our Alfie, who still got up in the morning and found a reason to smile each day, despite his suffering.
This is what inspires us all to carry on trying to make a difference.
"To be brave is to smile and still fight on" Unknown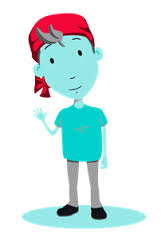 The Brain Tumour Charity - Meet Jake
You may have noticed a new addition to our home page recently. A cute little animated boy called Jake.
Jake is the newest member of the support and information team over at The Brain Tumour Charity.
He is an animated 8-year-old boy who has been created to help children with a brain tumour get answers to some of the questions they may have.
Jake's videos offer easy to understand information on Brain Tumours, Scans, Steroids, Chemotherapy, Radiotherapy and Neurosurgery.
We think Jake is a fantastic idea from The Brain Tumour Charity and one which we believe will benefit many children and their families.
Our Ryan watched the video on YouTube where Jake explained all about Brain Tumours.
Ryan always has a lot of questions and this video helped him to understand things a lot more. So the videos can also be a helpful way of explaining things to siblings as well.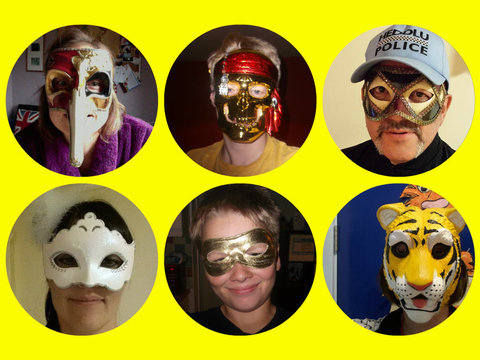 Fundraising
A heartfelt thank you to everyone that has followed our Alfie's Journey and helped in raising awareness of DIPG.
Also a big thank you to all that have donated, organised events and attended those events. Your support has overwhelmed us.
This year was the first time that the UK have joined in with the rest of the world for Childhood Cancer Awareness in September.
The support for Childhood Cancer Awareness was amazing.
Social media was a sea of Gold and even famous landmarks like Blackpool Tower and the National Theatre in London were all lit up gold for the children.
To support CCAM, our Tyronne came up with the idea Masks4Gold. He said "I am wearing a mask for my hero Alfie as he had to wear one for radiotherapy. I am asking people to take a selfie wearing a mask for child hood cancer awareness month.and donate to us or another children's cancer charity of their choice."
We are so proud of Tyronne for wanting to do something positive in September. Thank you to everyone that took part and helping him to raise £55.00.
Another event that many people took part in was 'The Cold Water Bucket Challenge" My Brother and Sister in Law and our three gorgeous nephews uploaded some video's of themselves having a bucket of cold water chucked over them, and then donated to Alfie's Journey Fund.
This encouraged many of our family and friends to follow suit.
We also took part, although our bucket was more like a giant toy box!
Thank you to everyone that joined in and helping to raise a fantastic £191.00.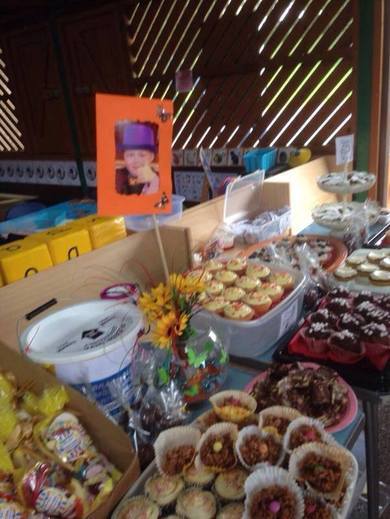 Thank you to Michelle Sandiland and all the staff, children and parents at Millway Primary School who held a mufti day and Go Gold raffle on the 19th September.
The day was a great success!
The cake sale was also amazing, with many people kindly making yummy cakes, gold ribbons and loom bands for the day.
Amie Withrington also made a gorgeous gold bear for the raffle prize.
They all raised an amazing £702.47.
As well as this, the children all went home with HeadSmart Awareness cards, meaning another 400 parents will now be aware of the symptoms of Paediatric Brain Tumours.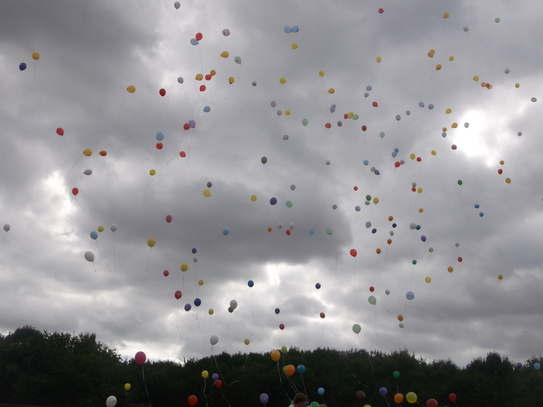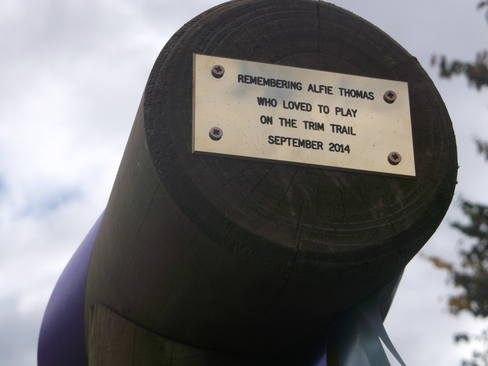 On the 26th September, Hunsbury Park Primary held a special balloon release and memorial for our Alfie Bear.
The day was a chance for the children to say goodbye to Alfie. The day was both emotional and beautiful.
It was a beautiful afternoon, with the children all singing a song, followed by the release of their balloons and the opening of a new part of the trim trail with a plaque for Alfie.
The sun did not stop shining, such a lovely way to remember Alfie and celebrate his life.
Thank you so much to all the staff, pupils and parents of Hunsbury Park Primary School for making it such a special afternoon and for raising a further £520.60 for The Brain Tumour Charity - Alfie's Journey Fund.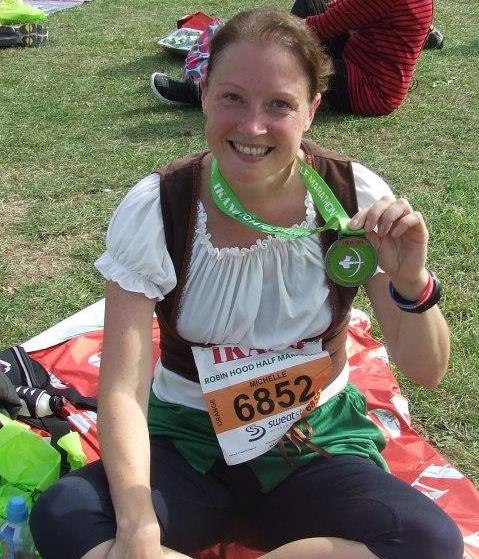 On the 28th September, our neighbour Michelle, successfully completed the Robin Hood 21k Marathon.
Michelle ran it all in fancy dress.
Well done and thank you to Michelle for raising £153.00 for The Brain Tumour Charity - Alfie's Journey Fund.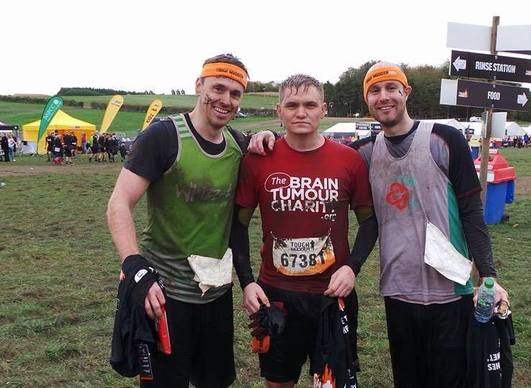 James Atter, a good friend of Danny's from work, set of to South London on the 26th of October to tackle a 12 mile obstacle course in memory of our Alfie.
James said that during the Tough Mudder challenge he got cold, wet, muddy and electrocuted but he completed it and raised a brilliant £162.00 for The Brain Tumour Charity - Alfie's Journey Fund.
Well done James and a big thank you for all your support.
Big thank you to all the staff and customers at The Hill Shop, West Hunsbury for filling another collection box and raising a further £84.00.
The Hill Shop have been a great support to us over the past year.
As well as holding a family fun day in memory of our Alfie back in June, they are constantly advertising our events and displaying our collection boxes on their counter. Thank you to you all.
We have had quite a few local primary schools, holding mufti days for Alfie's Journey Fund this year.
Thank you to all the staff and children at Loatlands Primary School who raised a brilliant £137.00 from their School Mufti Day.
Thank you to all the staff and children at Park Infant School who raised a fab £190.82 from their mufti day.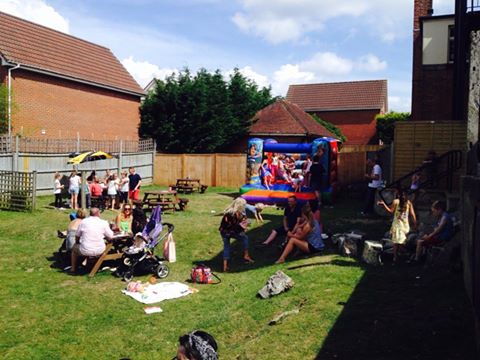 On the 27th August, The Crown Pub in Bournemouth launched their new menu, and kindly chose to give £1 from every main meal to Alfie's Journey Fund. They raised a fantastic £114.00 on the day.
Big thank you to all the staff and customers for their continued support this year.
Big thank you to all the staff at the Amy HQ in Andover for another successful Coffee and Cake morning, raising a fab £62.28.
Thank you to Dad (Pop) and my sister Helen and everyone that made cakes on the day.
This is the third coffee and cake morning that the Army HQ in Andover have held for The Brain Tumour Charity - Alfie's Journey Fund this year and we are always hearing how yummy the cakes and sausage rolls are.
Thank you to all of you for your continued support.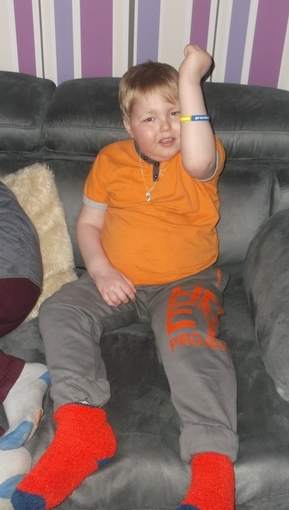 Thank you to everyone that has sold or brought a wristband this year.
Some of you may not know that it was actually our Alfie who picked the colours for his DIPG Awareness wristbands and he was so excited when the first lot came through the post.
From that day, Alfie was never seen without his on. Now we see many other people wearing them, which is lovely.
Thank you to Dad (Pop) and our cousin Emma Cogman and Hedges Chemist for recently selling some of our wristbands and raising £76.00.
Thank you to Northants Police for selling our wristbands at work and raising £115.00
We would like to say a big thank you to Christy Jones and her Colleagues at Office Depot in Brackmills Northants for their generous donation of £500.

Thank you to our friends Michelle and Jim who took one of our collection boxes down to the Malt Shovel Pub on Sunday, where Jim's new band Brighton Riot were playing their first gig.
They raised a fantastic £184.34. Thank you to everyone that kindly donated.

Thank you to my friend Natalie and to all the staff at Taylors Estate Agents, Northampton who kindly donated £30 from their 'Wear Jeans to work day'

Thank you so much to all of you for supporting The Brain Tumour Charity - Alfie's Journey Fund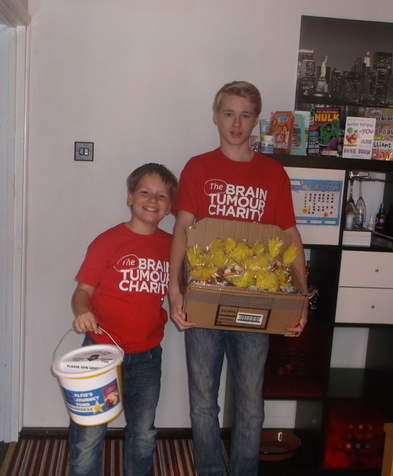 Inspired by Alfie
Tyronne and Ryan were busy making sweet cones throughout October. Thank you to everyone that brought a sweet cone and a big thank you to our amazing neighbours Sue and Jack who took the boys sweet cones to work and raised a fantastic £135.00.
Tyronne and Ryan have organised something special for Christmas, which we will share with you all later in the week on our Christmas Blog.
Thank you for taking the time to read our latest news.
Zoe & Danny xx