Charity Dinner - Thank You
Posted on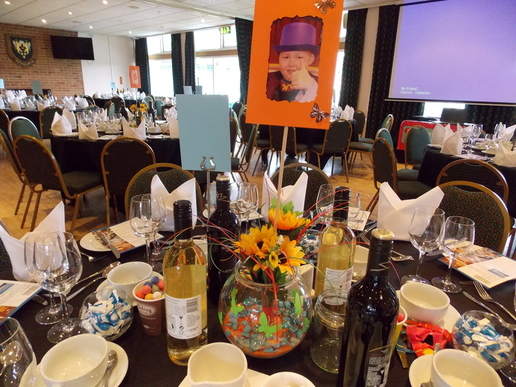 Wow! What an amazing night at Alfie's Charity Dinner & Auction on Saturday.
A big thank you to everyone that came to support the evening and helping to raise £4592 for The Brain Tumour Charity - Alfie's Journey Fund.
We would like to say a massive thank you to our Graham who worked so hard organising the event and making it such a wonderful evening.
Thank you to The Saints Rugby Club for hosting the event, a beautiful setting for such a beautiful occasion.
The evening was very emotional with Graham reading our speech on DIPG and Paediatric Brain Tumour Research, followed by the boys beautiful Tribute video.
There were pea shooters and noisy balloons on the tables, which went down a treat, especially with the "grown ups" who had great fun pea shooting the other tables :-)
Thank you to all our families for helping to organise the raffle and set up the venue. A special thank you to our Thomas boys Tyronne, Evan, Ryan & Rhys for selling the raffle tickets on the night and keeping the guests entertained with their fun-loving natures.
Thank you to our Sister Helen Turner for making the beautiful table centre pieces, which she made in Alfie's favourite colours and flower, topped off with a gorgeous picture of our little Angel.
Thank you to Musgrave for donating the wine for the evening.
Thank you to Roger Tattersall for speaking at the dinner and Auction. Such a great guy!
A big thank you to the band and DJ, Accrington Stanley and Matt Owen who kept us entertained all evening with their fab music. You guys were amazing!
Big thank you to the fabulous Illusionist Jamie Docherty who boggled our minds and entertained us all at our tables.
Thank you to Photocall Events who took the photo's on the night, amazing service. Everyone looked lovely.
If you would like to buy a photo please see their website here http://photocall.instaproofs.com/store/ Fill in your email address then you can view all the photo's taken on the night.
Auction
Big thank you to all the people and businesses that kindly donated Auction prizes - Jim Luck, Silverstone, Guy & Pat Seymour, Myra Carbin/Redbull, Roger Tattersall, Northants Police, Natalie Weekes Graham - Sir Trevor Mcdonald, Dame Helen Mirren, Hankook Tyres UK, Legacy 300, Karen Canwell, Northampton Saints, Bridgestone, Northants County Cricket Club.
Thank you to Dominic Waldouck from Northampton Saints who attended the dinner and got up to speak at the end. Thanks Dominic for donating your signed T-Shirt to our Auction.
A special thank you to Jay Patel who offered a luxury Yacht Charter to our Auction. Thank you Jay for coming to our dinner and for your generosity on the night.
Raffle
Thank you again to all the people and businesses that kindly donated prizes for our charity dinner. There were so many lovely prizes on the night.
Big thank you to Musgrave, Rushden Hall Hotel, S&B Commercials Mercedes-Benz, Mike Arestit, The Pinnacle Climbing Centre Northants, Althorp House, Nene White Water Centre, Tracey Holt, Sparkling Sentiments, CS Photography, Masons Hair Studio, B&M Bargains, Boots, Tesco, Marks & Spencers, Helen Turner, Ann & Allen Smallwood, Josie Tyers, Theresa Lawrie Ashton, Cineworld, Pizza Hut, Matalan, TGI,
Also a huge thank you to everyone that brought a wristband or donated.
We are extremely grateful to every one of you for your amazing support of our Alfie's Journey Fund, and hope you all enjoyed the night as much as we did.
Please feel free to share your photo's of the event on our FB page or Twitter.
Looking forward to seeing you all again next year xx