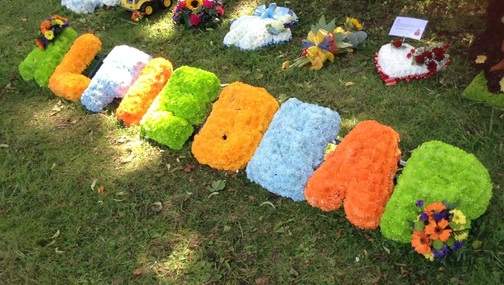 Thank you to everyone that came to Alfie's service. It was lovely to see so many people there, all wearing our Alfie's favourite colours.
The floral tributes were all beautiful and the sun didn't stop shining. Tyronne and Ryan made a very touching tribute video for Alfie, which they wanted to share with you all.
The last five weeks have been extremely difficult. We have had some amazing support from our friends and family, and spent some precious time with Tyronne and Ryan.
The boys have now gone back to school, so the house is too quiet. We all feel very lost without Alfie bear. We miss his big smile, his infectious laugh and his loving personality. We wish we could have him back, but of course we know that is not possible, but he will be forever in our hearts.
Although we always knew that Alfie was terminally ill, nothing can prepare you for loosing your child. You have so many hopes and dreams for your children, so to watch Alfie grow into a beautiful boy only for him to be taken away is... well we don't really know a word strong enough to describe the feeling.
There were times in Alfie's journey when he was doing great, and Doctors used words like 'remarkable.' Those were the days when a part of us wondered if Alfie was going to be a medical miracle. We believe that Alfie's positive and happy nature was what drove him to defy the odds.
When Alfie was first diagnosed, he had already deteriorated rapidly and we was told that he had weeks to a couple of months to live. We was advised that Radiotherapy may not work and we should make the most of our time left with him. Of course we are so glad that we chose to try the radiotherapy for Alfie, as it meant he had 5 months practicaly symptom free. We made many treasured memories in those months.
Although Alfie passed away on Monday 02nd June, the last time we heard him speak properly was Saturday night. We tucked him into bed and he said "Love you."
When he woke Sunday morning he could no longer speak, instead he squeezed our hands for yes or no. This was when we had to admit that Alfie was not going to get better. From Sunday evening, Alfie could not communicate at all.
We was told that medically Alfie probably couldn't hear anything at the end, but we carried on talking to him, holding his hand and reading his favourite book 'Charlie and the Chocolate Factory' in the hope that he could hear us. To not be able to communicate with your child or know what they are thinking or feeling is heart wrenching.
DIPG is a cruel disease that carries very little hope. 0% survival rate and No Known Cure is not what we should have to be hearing in today's world. Our Alfie bravely fought until the bitter end, but in reality he was always fighting a loosing battle. DIPG was always going to win and that is what is so cruel.
There has to be a cure!! A cure for all the brave children battling DIPG and in honour of all the ones that have sadly passed away. We are determined to help towards making a change, and we thank everyone that is helping us along the way.
Children are our future and they need a fighting chance. Our love for Alfie will keep us all strong and give us the determination to carry on his fight.
"Where there is love, there is hope"
Alfie's Journey Fund & Raising Awareness
Our main aims in setting up the campaign was to raise valuable funds for research into pediatric brain tumours in the hope that one day there will be a breakthrough, at the same time raising awareness of DIPG amongst parents and medical professionals alike.
The fund was launched in March with an initial target of £10,000, this is the threshold that we need to reach to then decide where the money is spent. As we stand today the total stands at a smidge over £9,000. Our thanks go out to everyone that has donated, organised an event, attended an event or brought a wristband.
Last week we shared the news that The Katy Holmes Trust have pledged more than £700,000 to help fund a ground breaking 5yr research programme working with The Brain Tumour Charity. The project led by researchers at the world-renowned Institute for Cancer Research, the Institute for Child Health and Newcastle University will be investigating new treatments for tumours including DIPG! The work will form part of a wider programme of research into childhood brain tumours, costing a total of £4 million and driven by The Brain Tumour Charity. We was excited to learn of this research programme that will help get a better understanding of DIPG and pediatric brain tumours. Research is VITAL for finding a CURE and for helping the children of our future.
Fundraising Events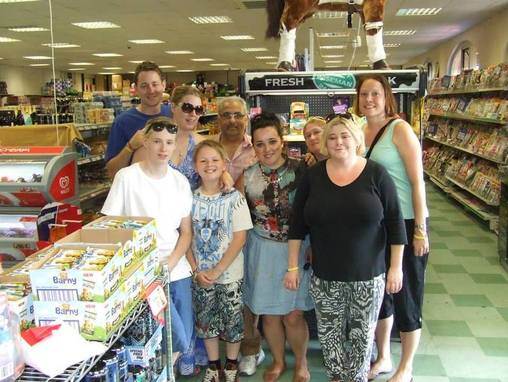 The Hill Shop raised over £1,300 at their charity fun day on Saturday 21st June. It was a wonderful day and lovely to see so many people there. All the staff and volunteers worked so hard to make it a fun community event, Alfie would have loved it. We are extremely grateful for their continued support.
On Saturday 12th July Alex Harris is competing in Tough Mudder, an extreme 12 mile assault course. He will be kindly competing in Alfie's memory and will be sponsored for the event. Alex's Son Ben was our Alfie's best friend. We have a video from Alfie's surprise party where people was recorded saying what they loved most about Alfie. Little Ben simply said "I love Alfie because he is my best friend." which made our Alfie smile when he watched it back.
Our friend Chrissie Rarity is holding a charity fun day at the Crown Pub in Bournemouth on Sunday 20th July, if you're local please go along and support the event, it promises to be a great day. Activities include bouncy castle, BBQ, face painting, Raffle and more. You can check out the event here..
https://www.facebook.com/events/229371870606316/
On the 13th September we are holding a black tie dinner & Auction at Northants County Cricket Club in honour of Alfie Bear. My brother Graham has worked tirelessly on this event which looks set to be a night of fun and frolics. illusionist Jamie Docherty will be there to blow your mind. Accrington Stanley will also be there on the night wowing everyone with their music. Thanks to the generosity of many people, we also have some amazing Auction prizes including a family holiday, signed photo of Dame Helen Mirren, signed photo of Muhammad Ali, Silverstone tickets, football tickets and a signed shirt and behind the scenes tour from Northants County Cricket Club. Whooo I hear you cheer!!
Tickets are still available at £40.00 each
http://www.alfiebearsjourney.co.uk/events_132778.html
Inspired by Alfie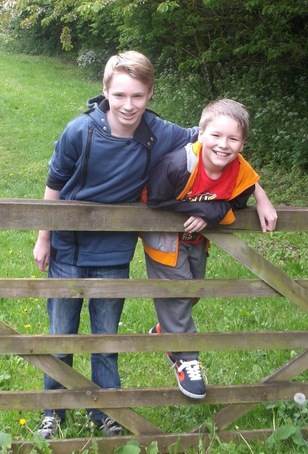 Tyronne & Ryan have really got into fundraising, and while talking about doing another cake sale, they made the amazing decision to raise money for the wards that cared for Alfie. Our eldest son Tyronne said
"I want to make the Children on the ward smile like Alfie did."
The Oncology wards are so important to the children and their families. They spend a lot of time there through illness, treatments and check ups. Alfie always enjoyed it on the wards, he loved playing in the playroom, painting in the school room, watching his favourite dvds and of course eating all their food.
The care Alfie received from both Disney Ward, NGH and Kamrans Ward, JRH was amazing.
We are immensely proud of the boys for wanting to give something back, and for all the effort they are putting in to raising money and making a difference to other children in memory of their little brother.
You can find the boys JustGiving pages on Alfie's Journey Team page.
We continue to be overwhelmed by the support you have all shown, and thank you from the bottom of our hearts
Zoe & Danny xxxx