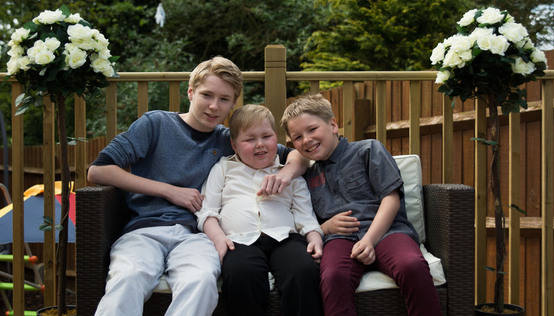 Our Alfie
In the last update we told you nothing more could be done for Alfie's tumour, this hasn't changed, yet such is his character he keeps smiling. We're having weekly visits from the hospital consultants and the Macmillian nurses, they are monitoring Alfie's condition and generally keeping an eye on us all.
Having previously all but lost the use of his right arm and hand, in the last week Alfie has had a few problems holding things with his left hand, despite the frustration, he keeps smiling.
Photo Session
We had a lovely family photo session the other week. The sun was out and there was plenty of smiles.
Thank you to Steve from Treasured Momentz Photography, the photographs are beautiful.
Also thank you to Jan from the NC TLC Trust who organised the special photo sessions for us.
School Visit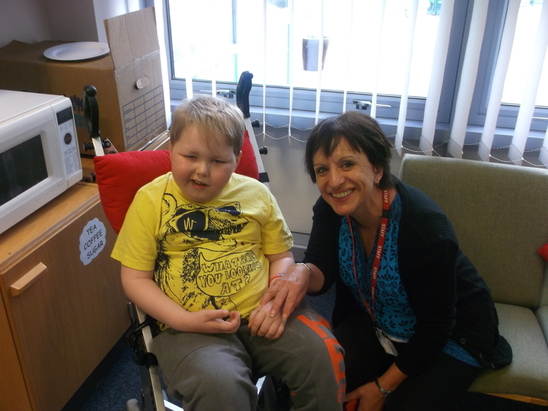 Alfie managed a short visit to school, he loved seeing his teachers and friends and eating donuts in the staff room :-)
NC TLC Trust Allotments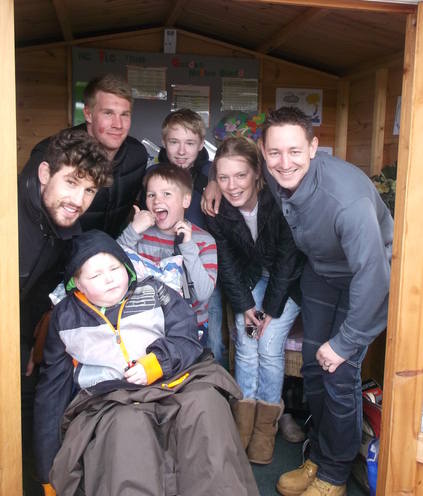 Alfie enjoyed an afternoon getting green fingers at the charity allotments, although we think Ryan may have enjoyed it more given he was rubbing shoulders with Northampton Saints players Dominic Waldouk & James Craig.
It was lovely to see everyone, and Alfie was excited when he won the 'Guess the Scarecrow' competition.
Uncle Graham's BBQ
We recall some sun, (not sure where it is now). We spent the afternoon in Desborough with Alfie's Uncle Graham and Auntie Christine and his cousins. It was a nice change of scenery and Alfie was most excited at seeing everyone.
Uncle Graham was in charge of the BBQ, although nothing would cook quick enough!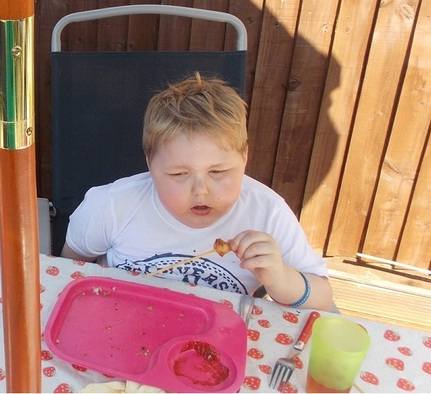 Family & Friends
With the limited days out and regular visits from the consultant and Macmillan nurses, there has been plenty of opportunity for family and friends to visit, although tiring for Alfie, he does love an audience.
Alfie enjoyed a weekend with his Auntie Janet & Uncle Colin, and had fun in the paddling pool with his big brother Ryan.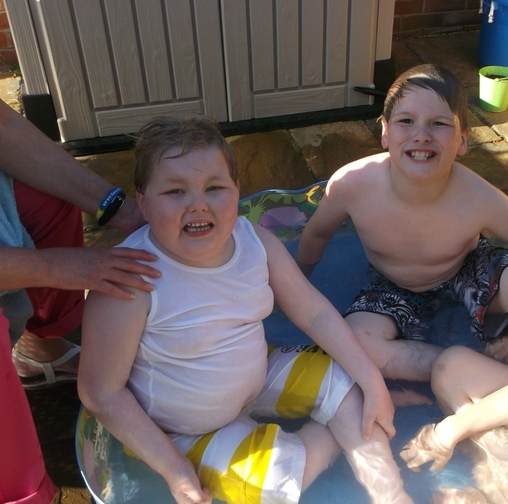 Fund Raising
Donations through the website continue to come in, the support is overwhelming, thank you to everyone for their kind donations.
Wristbands
They arrived at long last…..and then they were gone!! The wristbands did not hang about, the uptake was amazing, again our thanks to everyone that has brought one, there are more on the way for those of you that was disappointed the first time around.
Sausage Roll & Cake Sale
A massive thank you to Alfie's Aunty Helen and Heath Youd, (Ted) for organising a sausage roll and cake sale at the Army Logistics HQ near Andover, in no time at all a few lb's were gained and over £100 rolled in for the fund, thank you to Helen for making the cakes and Alfie's Pop for the sausage rolls.
Brunts Academy Mufti Day
On the 9th May the Academy in Mansfield, where Alfie's Nana and Granddad worked for many years, held a mufti day and raised an amazing £1049.10. Thank you so much to the staff and students for their generosity.
Dave's Snowdon Challenge
Dave's challenge was originally an annual walk that he completes with a number of colleagues, each walker pays to take part, and the fee gets donated to a worthy cause.
Dave has never met Alfie, in a conversation with Alfie's uncle Graham he volunteered to donate the entry fee for this walk to Alfie's fund.
The walk then evolved into what has become Dave's Ewe Must Be Joking Snowdon Challenge.
On day one Dave and 1 other walker will start the walk, on day 2 they will be joined by 8 other walkers for the annual event, in the 2 days Dave will climb for over 3000mtrs taking in some of the most challenging peaks the UK can throw at him.
This week, Dave beat his own target of £500 and has so far raised £600 for Alfie's Journey Fund.
Thank you so much to Dave and to everyone that has donated.
You can support Dave at his Just Giving page http://www.justgiving.com/D-Evenett
Charity Coffee Morning
On the 7th June at St Benedict's Church, Hunsbury Hill between 11 and 2pm pop in for a fun-filled coffee morning.
Thank you to Tracey Holt, Linda Holmes, Myra Carbin, Louise Tyler and Jacqui Germaine for all the wonderful work they have put into organising this event, there will be refreshments, a raffle, a bouncy castle and a name the bear competition. (Alfie has named the bear, get your thinking caps on!)
Changes to our Facebook Page
As we are not always able to update Alfie's page, we have made Alfie's Uncle Graham Editor of the page.
Graham will be helping to update everyone on Alfie's journey as well as advertising the latest fundraisers.
Thank you so much to Graham for all your support, we know you are still working hard on the Charity Dinner & Auction, and we truely appreciate all that you are doing x
Alfie the Super Bear
Last week, Alfie received a beautiful canvas picture of him as a super bear along with his favourite toy puppy 'Alfred' from Your Hero Made Super.
Your Hero Made Super has been set up by Danny and Caroline whose Daughter Naomi was diagnosed with T Cell Acute Lymphoblastic Leukaemia (ALL) in February 2012 at age 2. Danny, a talented cartoon artist, is drawing pictures of courageous children with Cancer as their favourite Super Heroes or characters.
Thanks to the Emily Ash Trust, they are now offering free canvas prints of the childs picture. This is such a wonderful thing to do, and Alfie absolutely loved his canvas.
You can read more about what they do here http://yourheromadesuper.com/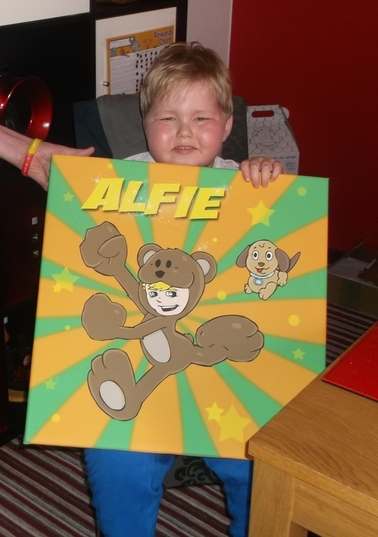 This reminded us of a quote we read a while ago "Sometimes Super Heroes live in the hearts of small children fighting big battles."
Alfie is our little super hero.
He continues to amaze us with his strength and make us smile with his cheeky nature.
We love you Alfie Bear.............Keep Smiling Beautiful!! xxxx