Love & Strength
Posted on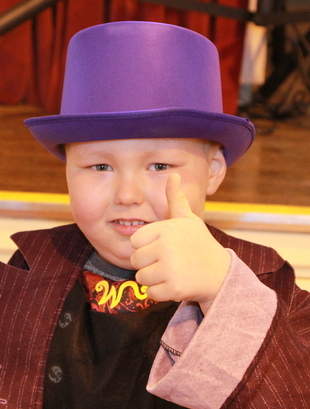 Our Alfie
We have put off updating Alfie's pages this week, I guess we just couldn't find the words.
When we set up Alfie's page, we did so because we wanted to raise awareness of DIPG by sharing our Alfie's journey.
Alfie has had many good months, but it would not be an awareness page if we only made people aware of the good, which is why we knew we had to sit down and write this.
If you have already read Alfie's Journey page, then you will know that Alfie's tumour has progressed further and is causing a lot of swelling on the brain.
On Sunday 27th April, we were told the devastating news, that nothing more can be done for the tumour now.
Devastated is a word we use a lot, however it doesn't seem enough to describe how we feel right now.
Alfie can no longer walk unaided or use his right arm/hand.
He gets very tired and his eyes keep playing up.
Despite this, Alfie is still smiling and laughing, which in turn makes us all smile and laugh.
We love Alfie's amazing strength.
Since the higher dose of steroids, Alfie has been able to enjoy a few hours out of the house.
He has also had a lot of visitors this week.
Farm Park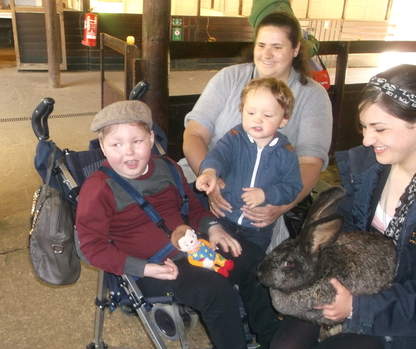 On Thursday, Jan and TJ came to visit us all.
Jan and her family set up local charity NC TLC after their own son TJ was diagnosed with Leukaemia.
Jan wanted to support other children and families going through similar situations to her own.
TJ and Alfie made a special friendship instantly, which is one of the lovely things about the charity.
NC TLC Trust's motto is "With you all the way" and they certainly are.
The unique thing about the NC TLC Trust is, that everyone on the team have lived through a similar situation, so they are always there to answer any questions you may have, and to support you in any way that they can.
Jan heard Alfie was going to the farm park on Saturday, and in just one evening she organised a Hummer to collect us all and bring us back, so that Alfie could have a comfortable ride.
Jan then arranged for us to get there early so Alfie could feed the animals, and organised a special tea party for us all.
We can't thank Jan and everyone at NC TLC towers enough for Alfie's amazing surprises this weekend.
An amazing charity full of genuinely lovely people.
You can read more about the NCTLC Trust and what they do here http://www.nctlctrust.com/
As well as us, the boys Uncle and Auntie and three cousins came with us for the day out.
Alfie's face was a picture when the Hummer pulled up, but his favourite part of the day was stroking the animals and feeding the baby lambs.
We only stayed a few hours but we all had a lovely time, and it was nice for the boys to all spend quality time together.
Dinosaur Land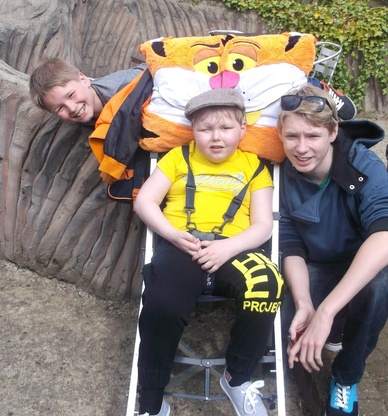 On Sunday, we went to Dinosaur land for an hour along with the boys Nana and Granddad. Alfie had fun seeing all the dinosaurs and going on the boat tour. It was a beautiful day, with plenty of sunshine. We went for a roast dinner after and Alfie enjoyed sharing a big chocolate sundae.
Fundraising
We have noticed a lot of new donations over the past two weeks, thank you so much to everyone who has donated.
Alfie's Journey Fund has raised £1,720.00 so far, which is amazing.
A big thank you to Hester Seymour and family for their wonderful contribution of £508.00 which they raised at their charity coffee morning.
We can't thank you all enough!
Dave's Snowdon challenge
Just 24 days to go until Dave will be starting his Snowdon challenge in aid of Alfie's Journey Fund. Dave has already raised 56% of his £500 target, but still has a way to go. Here are some words from Dave.
"A big thank you to those who have donated so far, however I have a long way to go. Training is proving difficult to do so I need some motivation, so please dig deep and support this worthy cause."
If you would like to sponsor Dave then you can find his Just Giving page here http://www.justgiving.com/D-Evenett. You can also help spread the word by liking, tweeting or emailing Dave's page to others.
Thank you for following our Alfie's Journey. We will write again soon!
Zoe & Danny xx