Alfie's Journey
Posted on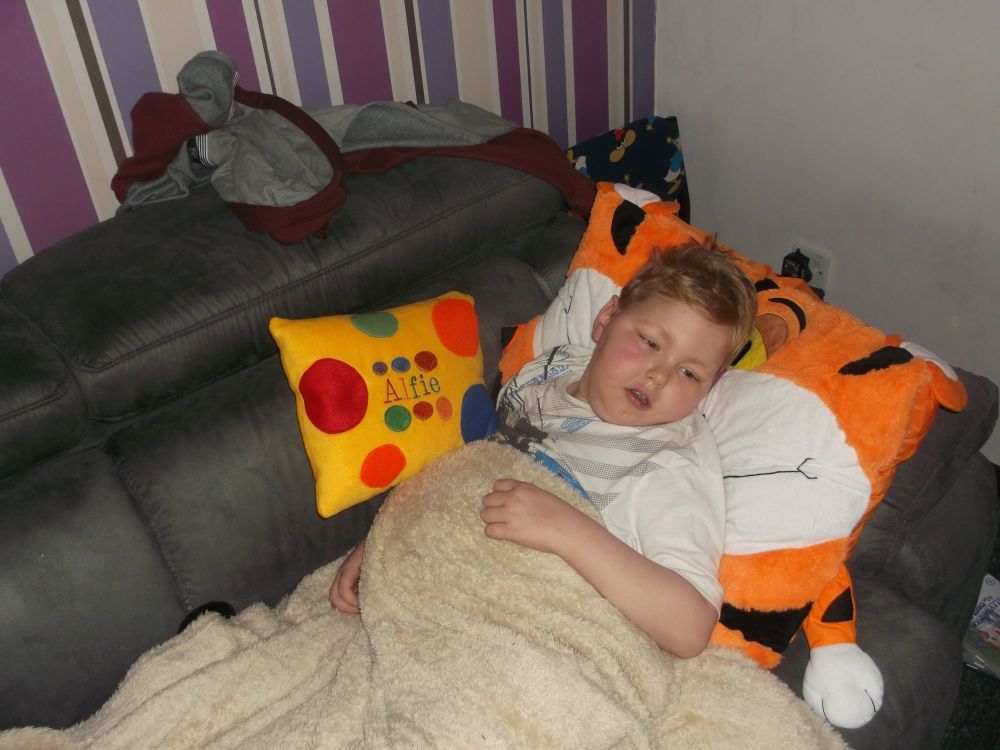 Alfie's Journey
Alfie has been very up and down these past few weeks.
Alfie did not cope very well with his second course of Chemo, he was sick most days and extremely tired.
After his last Chemo session had ended, Alfie could not use his right arm or hand.
He had no grip in his right hand, and was using his left hand to support his right.
This was very worrying and so we took him back to the hospital.
His Consultant has increased his steroids and Alfie is having Physio on his upper right side as it is very stiff.
Alfie continues to be unsteady on his feet. He also has bad mood swings, and who can blame him.
He gets so frustrated with not being able to use his right hand and being unsteady on his feet, that some days he just screams and shouts at everyone around him.
It is heartbreaking to watch, and knowing there is little we can do to change things does not help.
We try to make things as easy as possible for Alfie, and cuddle him when he gets upset and angry, but sometimes he doesn't even want anyone touching him, those days are the hardest.
Alfie is our innocent little boy, nothing about this is fair, in fact it is down right cruel!!
The results from Alfie's gene test came back, and unfortunately he tested negative so is not eligible for the molecular based trial.
We knew the chances of Alfie testing positive was extremely slim, however we clung to hope, so it was a blow when we heard he would not be able to take part.
Since Alfie's steroids were increased, he has perked up a little and even used his right hand a few times which is great.
Since then Alfie has been able to enjoy a few memorable days.
Fire Station Visit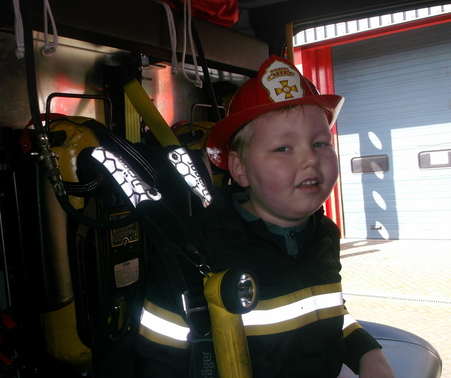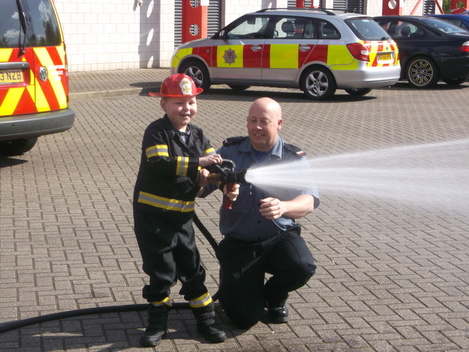 Alfie has always wanted to ride in a real fire engine, and when the staff at Mereway Fire Station invited Alfie along for the morning, he got to do just that.
Alfie got driven around in the fire engine with the blue lights flashing, and he enjoyed spraying the water hose and going on a tour of the station.
After his tour, he had tea and cakes and even won an Easter egg for telling the funniest joke.
Thank you so much to the staff at Mereway Fire Station, you were all so kind and Alfie had an amazing time.
We are so happy that Alfie got his wish, and we think he makes a very handsome fire fighter too :-)
Surprise Willy Wonka Party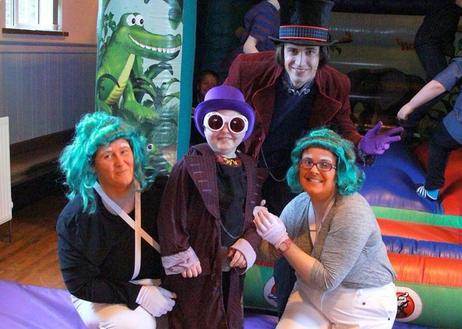 Five weeks ago, Karen from the Alfe's Cause Charity, called me and asked if they could organise a party for our Alfie.
Karens own son Alfe was diagnosed with B cell Non-Hodgkin's Lymphoma in 2009, and spent 8 months being treated for the cancerous tumour.
Alfe went into remission in July 2010, and since then has been determined to help other children who are sick.
Alfe is such a loveable and caring boy who is determined to make a difference, and he certainly does that.
With the help of his amazing Mum Karen, they set up a community group called Alfe's Cause.
You can find out more about Alfe's story and their charity here
http://alfescause.blogspot.co.uk/search/label/Alfe%27s%20Story
We have had a few days out with the Alfes cause charity, and always have such a lovely time.
We was touched that Karen wanted to do a party for our Alfie, and in just 5 weeks with the help of Trustee Shirley and many other people, they organised an amazing surprise Willy Wonka party.
Karen and Shirley knew how much Alfie loved the film, and that he had always wanted to meet the "real" Willy Wonka. So it was an extra special surprise for Alfie, when Shirley managed to get Willy Wonka to the party.
Karen and Shirley even dressed as Oompa Loompas for the occasion, they all looked fab!
Alfie had a wonderful afternoon, seeing all his friends, being drove to the party with us and his brothers in a classic car, and eating lots of yummy cakes.
He said his favourite part was meeting Willy Wonka and the Oompa Loompa's.
Just seeing Alfie's happy face in that moment was very emotional. There were some happy tears.
We will never forget that magical party.
A huge thank you to Karen and Shirley and everyone else who made it extra special for our Alfie.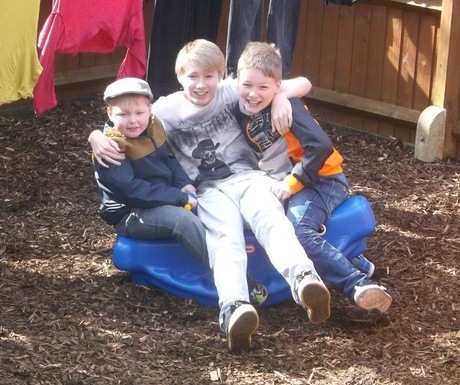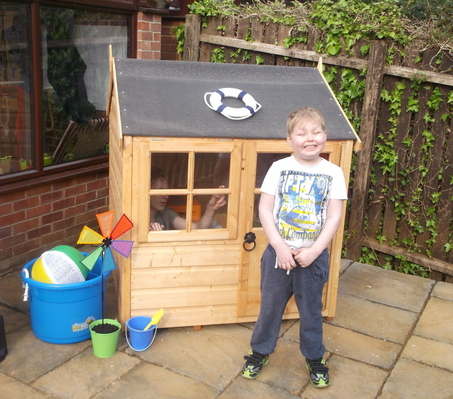 We have been getting the garden sorted so the boys can enjoy the nice weather.
The play house finally arrived, so Danny has been busy outside putting it all together.
Alfie was so pleased with his little house, he could not wait for his brothers to get home, so they could play in it with him.
The boys have had so much fun playing in the garden, it is lovely to see.
Fundraising
Firstly we would like to thank everyone that has donated to Alfie's Journey Fund, we appreciate all your kind donations.
Thank you to our local shop 'The Hill Shop' who have already filled one of Alfie's collection boxes, and have kindly took another one.
Many of Alfie's friends and family have donated to the fund this week, and we are as always, extremely grateful for all your support.
Hester's charity coffee morning in aid of Alfie's Journey Fund, went really well on Monday. They have raised an amazing £491 and the collection box is still going. Thank you to Hester and Mum and Dad, and to everyone else who helped out or attended on the day.
We have been told that our Ryan did an amazing job selling Raffle tickets for the coffee morning, and raising around £200. Well done Ryan, we are so proud of you.
Alfie's Uncle Graham, has also been extremely busy, organising the Charity Dinner & Auction. Graham has had the event tickets printed, and has already sold some of the tables.
We have some amazing auction prizes already lined up.
Thank you to everyone who has generously donated prizes, and to those who have already brought tickets to the dinner.
If you would like to attend the Charity Dinner, please see our fundraising events page for contact details.
Alternatively you can contact us at [email protected], and we will pass your details on to Graham.
It is not long to go now until Dave's Snowdon challenge next month.
Dave has already raised 52 % of his target. If you would like to sponsor Dave on his amazing challenge in aid of our Alfie's Journey Fund, you can do so here.
http://www.justgiving.com/D-Evenett
Thank you for following our Alfie's journey, we will write again soon.
Zoe & Danny xx