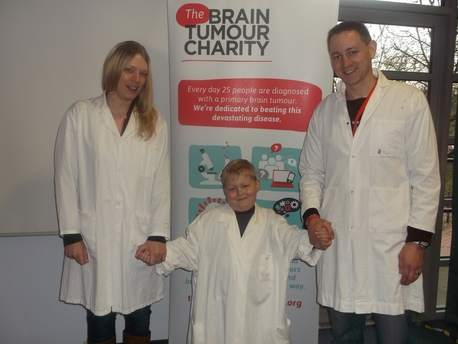 Last Friday we attended our first supporter's group day with The Brain Tumour Charity.
It was an amazing day held at Birmingham University, where we got to meet all the wonderful staff and some of the other supporter groups.
We learnt about their research projects and programmes that they have going on throughout the UK.
As well as this we also got to meet DR Tennant, and have a tour around his research lab so we could see first-hand how the money we all raise is going to pioneering research in to brain tumours.
We found the day both informative and inspiring.
On Saturday, we went along to a family fun day with the families from The Brain Tumour Charity.
It was a lovely day and the sun was out for us all.
Alfie loved the Archery and Tyronne and Ryan enjoyed the big zip wire.
We went home after lunch as Alfie was getting very tired but he still had an enjoyable day.
When asked what was his favourite part, Alfie replied "the food."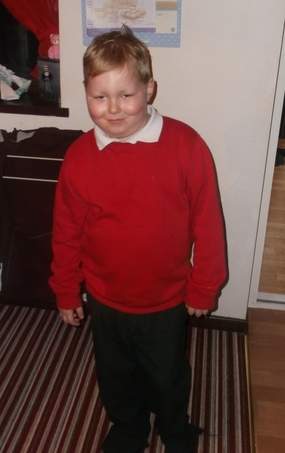 Alfie has had his steroid dose reduced again, so we are hoping his bloating goes down a little soon, as it makes him quite breathless.
He has been very tired this week and a little unsteady on his feet so he is needing to use his chair more when we go out.
Alfie has asked to go to school this week, he managed two hours on Tuesday but then came home as he was tired.
He had a better day on Thursday and went in for the morning, he loved seeing all his friends and teachers.
It is so frustrating for Alfie, because he wants to do all the things he used to do such as school and playing out with his brothers, but his tiredness prevents him from being able to do that.
We went to Oxford yesterday to see Alfie's Consultant.
As usual Alfie was excited to see Shaun, and Alfie made us all laugh while in the office.
Alfie had a blood test and didn't make a sound while he had it done.
This is a big deal for Alfie, as he is petrified of needles and it usually takes a long time for them to get any blood.
Usually Alfie is asked to cuddle into us and face away from the needle, however yesterday, Alfie said he prefers to watch and see when it is happening.
This made him more comfortable having it done.
We are so proud that he spoke up and told us what he wanted, and proud of him for being so brave.
Alfie's blood test results were all fine this time which is good, so he will be starting his next course of Chemotherapy this coming Tuesday.
Alfie's hair had started to go very dry and lank at the back, so we took him to have it cut shorter.
He likes to have gel in it like his brothers, and is happy with his "cool new haircut."