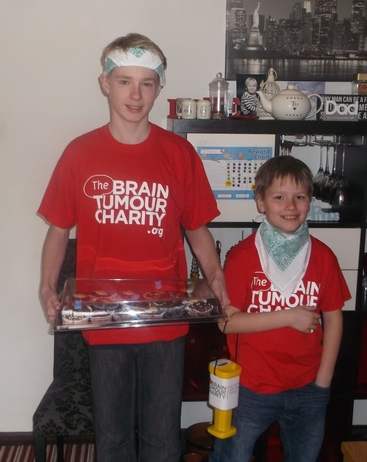 The Boys Cake Sale!
Tyronne and Ryan desperately wanted to raise some money for 'Alfie's Journey Fund.'
Between them, they came up with the idea of a cake sale, and with 'bandana for brain tumours day' in mind, they decided on baking cakes decorated with pirates wearing bandanas.
The cakes looked fab and they even did some teddy bear ones inspired by their little brother, Alfie bear.
The kitchen resembled a bakery this morning, and they even had their own production line with both Alfie and their Auntie Janet helping to decorate the cakes.
Dressed in their charity T-shirts and Bandanas worn in their own style, Tyronne and Ryan set off to sell their cakes to all our friends and neighbours.
The boys were extremely pleased with themselves when they managed to raise £66.50 for their little brothers fund. Well done boys, we are all so very proud of you.
Thank you to everyone that brought a cake, we hope you enjoyed them.
We thought they were yummy :-)