DIPG Awareness
* * * * * * * * * * * * * * * * * * * * * * * * * * * * *
About Alfie Bear
In July 2013, our beautiful Alfie was diagnosed with a brain tumour just 3 months before his 6th birthday.
We were later delivered the heart breaking news, that it was an aggressive tumour of the brain stem called, Diffuse Intrinsic Pontine Glioma (DIPG).
DIPG is both inoperable and incurable. In fact the only treatments available to Alfie were steroids to reduce the swelling around the tumour, and Radiotherapy that shrank his tumour slightly and dramatically improved his symptoms.
Unfortunately the effects of Radiotherapy are only temporary, and the tumour will eventually started to grow back quicker, and more aggressive than before.Alfie did two rounds of Chemotherapy which sadly had very little affect.
DIPG affects less than 40 children in the UK every year, and despite it having a 0% survival rate, it remains extremely underfunded.
Alfie is our little hero. He was so brave through out his journey. Despite having to endure many hospital visits, procedures and treatments, Alfie did it all with a big smile on his face.
Our beautiful brave Alfie bear sadly passed away on the 02nd June 2014 with Mummy and Daddy by his side. Our Alfie bravely fought until the bitter end, a true inspiration to us all. He is now free of DIPG and has earned his angel wings. We are incredibly proud of the strength and courage that our beautiful Alfie showed throughout his journey. He will always be our hero and his huge smile and beautiful spirit will live on in all our hearts.
Our hearts are full with love and pride for our little boy who brought so much love and laughter to our lives. Alfie Bear will always be remembered as the brave little boy with the biggest smile.
We will continue to raise awareness to this devastating brain cancer, and raise some much needed funds for paediatric brain tumour research to help children affected by a DIPG tumour. Alfie was a true fighter and has inspired us all to fight on in his memory.
We made the decision to donate the whole tumour to research in the hope that it will go on to help children in the future. Although an incredibly hard decision, we know how much brain donations are needed to drive forward research. We find some comfort in knowing that a part of our little boy is still here helping others. That is our Alfie Bears legacy.
You can read more aboutAlfie's journey here.
What is DIPG?
Diffuse Intrinsic Pontine Glioma is a highly aggressive brain cancer.
DIffuse Intrinsic Pontine Glioma is a tumour located in the pons (middle) of the brain stem. DIPG's grow amidst the nerves, so it is impossible to surgically remove them.
The brain stem is the main communication centre for sending information from the brain to the body, and receiving information from the body to the brain.
The brainstem also contains the central part of many of the cranial nerves controlling the movement and sensitivity of the eyes, the face, hearing, steadiness, and taste among other things.
The brainstem is a very delicate area, that is responsible for many vital life functions such as breathing, heart rate and blood pressure.
35 UK Children will be diagnosed with DIPG every year, that is one child every nine days. DIPG accounts for 80% of all brain tumour deaths in children . They can develop any time, however the median age at diagnosis is 5 to 9 years of age. Median survival is just nine months.
What are the symptoms of DIPG?
Clumsiness/Wobbliness when walking

Loss of balance

Changes in behaviour

Double vision

Squinting

Facial Weakness/Drooping on one side of face

Weakness of a leg and/or arm

Slurred speech

Dribbling

Tilting of head

Problems with eye movement

Unusual sleepiness

Problems swallowing
If there is swelling around the tumour, symptoms can include
Headaches

Nausea and Vomitting
If the tumour spreads to the spine it can cause
Back pain

Difficulty walking

Problems with bowel and bladder control
Symptoms are usually present for six months or less at time of diagnosis.
How is DIPG treated?
Due to the location of DIPG, it is impossible to operate. Surgery could cause severe damage to structures vital for breathing and heart rate, as well as walking, eye movement, swallowing etc.
Steroids such as Dexamethasone, are usually given upon diagnosis, to help relieve any swelling and pressure around the tumour.
Radiotherapy is the only proven existing treatment for DIPG. The radiation is given just to the area of the tumour and can dramatically improve symptoms. However this is only temporary. The tumour eventually starts growing again, this time at a much faster and more aggressive rate than before.
Chemotherapy is in some cases used along side radiotherapy, and can sometimes be used when the tumour progresses.
Prognosis
The prognosis for DIPG is extremely poor, and the majority of children sadly die within one year of diagnosis.
DIPG has a 0 % survival rate, and there has been very little increase in survival rates in over three decades.
Some say that finding a cure to DIPG may result in a cure for every other type of cancer, yet it remains extremely underfunded, in fact the majority of funding towards research comes from charities formed by parents and families of children who have been diagnosed with DIPG.
Sources: childhoodbraintumor.org and dipgregistry.org
Our Mission
DIPG is a cruel diagnosis. It robs children of their ability to walk, control bowel and bladder, eat, speak, see, hear, talk and finally breath. Despite their whole body shutting down, their minds are spared, so they are aware of what is happening to them, yet unable to communicate with you.
Our mission as a family, is to raise as much awareness as possible to highlight the symptoms of this deadly cancer. We are also raising money for paediatric brain tumour research to help children affected by a DIPG tumour. We hope, that one day a cure will be found and other children and families do not have to hear such a poor prognosis.
Over £500 million a year is spent on cancer research in the UK. Less than 2% of this goes towards brain tumour research.
Alfie's Journey Fund is a supporter group of 'The Brain Tumour Charity (Charity Reg No: 1150054). The Brain Tumour Charity do an amazing job in funding cutting edge research to find a cure for brain tumours, as well as raising awareness and providing support to those affected.
You can find The Brain Tumour Charity - Alfie's Journey Fund here.
Thanks to the kindness of our supporters, through fundraisers, donations, wristband sales and support at charity events, Alfie's Journey Fund Team have raised over £70,000.
We are overwhelmed by the support out there for Alfie's Journey Fund, and thank each and everyone of you for your continued support.
This is only the beginning, we will continue Alfie's fight and continue to raise awareness and funds in our Alfie's memory.
If you would like to donate through Alfie's Journey Fund then please visit our Just giving page. Your support is greatly appreciated.

What's New?
We proudly accepted this wonderful cheque from the St Alban's Charity Players of Northampton. They raised an amazing £1250.00 for The Brain Tumour Charity - Alfie's Journey Fund through their, Most Daunted Live, Halloween Production, and their pantomime 'The Mis-Adventures of Snow White.' They all work incredibly hard on these productions, and we thoroughly enjoyed watching them all in action. It was lovely to meet up with Sandie, Claire and the rest of the friendly group. They are always so welcoming. Our heartfelt thank you to them all for making Alfie's Journey Fund one of their charities of the year, and for all their incredible support and hard work. Wishing the St Alban Charity Players of Northampton, the very best of luck in all their future productions ♥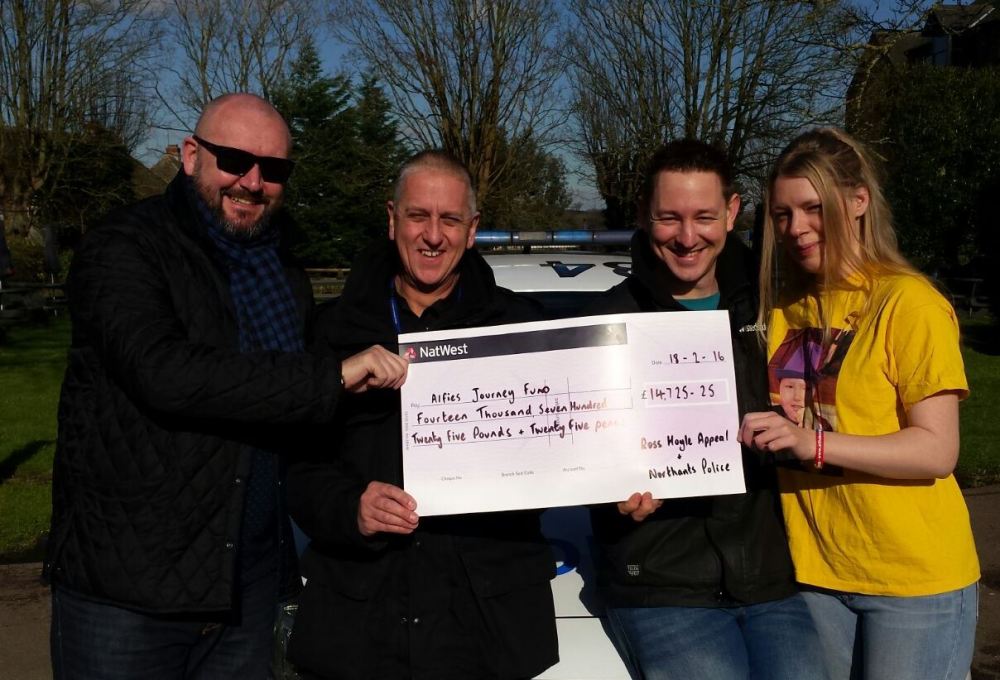 We are very honoured to have received this cheque from Alan Dyer and Andy Hoyle, from the proceeds of Alan's 'Blue Light Fight Night' which saw 20 Police Officers step into the ring in honour of Alfie Bear last November. The night raised an incredible £14,725.25 for The Brain Tumour Charity - Alfie's Journey Fund. Wow! Our warmest thanks to Alan for his ongoing support and the hard work that he continues to put into these events for Alfie's Journey fund. Big thank you to the Officers and everyone from Northants Police who helped and supported the evening. During the boxing event, after watching Alfie's awareness video, Andy Hoyle made a very generous donation on behalf of 'Ross Hoyle's Appeal' which was set up after Andy's own Son, Ross, was diagnosed with a brain tumour. Ross Hoyle's Appeal kindly donated £5,599.52 to Alfie's Journey Fund, as they personally know how important Paediatric brain tumour research is for future children. We have been extremely touched by this special donation and send our heartfelt thanks to Andy, Ross and family ♥
Big thank you to Ben Campbell and 'Kudos' company for their generous donation of £1,000 to Alfie's Journey Fund, which has been added to the 'Blue Light Fight Night' total. Thank you to Alan Dyer for all his help with this. The grand total raised for Alfie's Journey Fund from the boxing event now stands at an incredible £15,725.25.
♥ ♥ ♥ ♥ ♥ ♥ ♥ ♥ ♥ ♥
We ask that you please share a thought for all the brave children currently fighting brain cancer, as well as Alfie and the many other Angels that have sadly earned their wings.
Our love and thoughts are with them all ♥
Thank you for visiting our awareness page and taking the time to read our Alfie Bears Journey.
Below, you will find our new awareness video, highlighting the devastating reality of the monster we know as DIPG.
.
Alfie Bears DIPG Awareness Video